The promise of free Spark tokens is causing chaos. On December 12, the price of XRP fell sharply. The explanation? After this date and the intervention of Flare Network, many XRP holders were reselling their tokens.
Free is an argument that captures the attention. Several exchanges and wallets thus participated on December 12 in a Flare Network airdrop. The future blockchain will distribute Spark tokens for free.
These are however intended for holders of XRP. On December 12, Flare and its partners therefore analyzed the accounts and addresses holding XRP to determine which ones were eligible for Spark tokens.
Whales store, then resell their XRP
Such an airdrop therefore arouses a certain opportunism. But the effects on the price of XRP are not trivial either. Three weeks before this media event, the number of XRP whales reached a record high.
According to Santiment, the number of XRP wallets holding more than 10 million tokens, or the equivalent of approximately $ 5.67 million, was 339. This is a historic threshold. These whales therefore took advantage of the airdrop.
Before reselling their XRP? This is a plausible scenario, according to several observers, to explain the crash of the token price in the hours that followed. After the eligibility window passed, many XRP holders were reselling their tokens.
The price of XRP lost 8% anyway, while that of other cryptocurrencies like Bitcoin and Ethereum on the contrary were enjoying a boom. However, according to Decrypt, the price regained color thereafter.
23.5 billion XRP collected on exchanges and wallets
In recent days, this has created a number of turbulence for the Ripple token, however. A week earlier, former Ripple CTO Jed McCaleb received 266 million XRP. He was selling 30 million to pocket $ 16.2 million.
Spark's airdrop remains a success from Flare Network's perspective, however. The numbers are staggering. More than 110,000 accounts are eligible for Spark tokens, representing 23.5 billion XRP. 70% of them were on exchanges, led by Coinbase, and 30% in self-custody.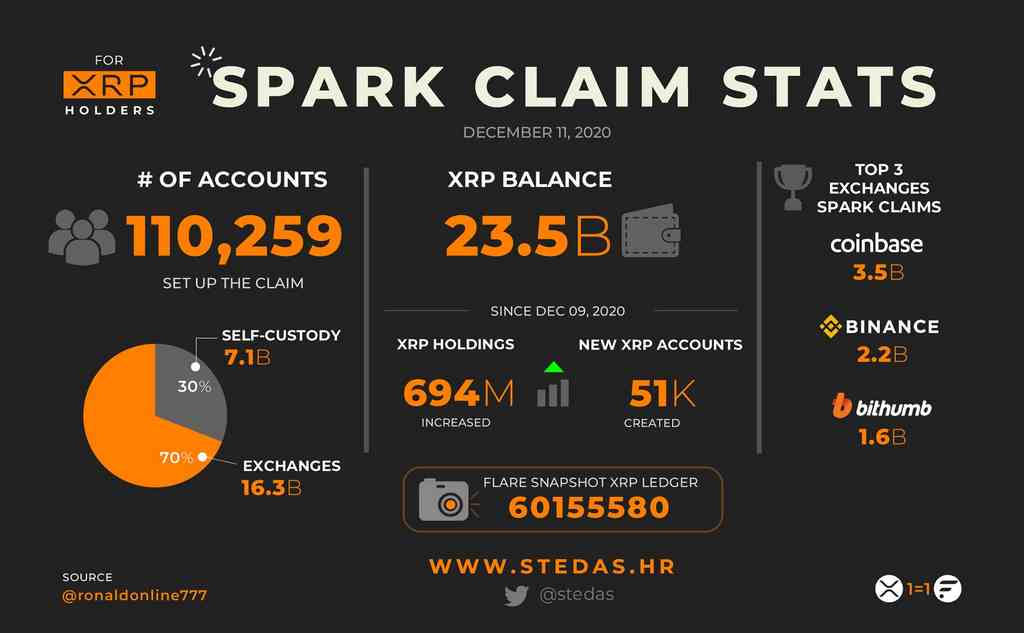 And the airdrop was attracting an influx of new investors. Between December 9 and 11, 51,000 new XRP accounts were created. In addition, these addresses hosted an additional 694 million tokens.