The AUDIO, token of the AUDIUS project explodes and gains 124% in one month!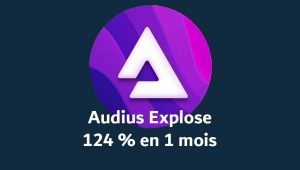 The AUDIO, token of the AUDIUS project explodes and gains 124% in one month!
Audius, competitor of music streaming platforms?
Audius wants to come and eat Spotify's market share. It is a decentralized streaming service where artists come to share their content directly with their listeners and fans. In addition to rewarding artists more fairly, Audius opens up a whole streaming market. With the functioning of its token, AUDIO, fans can have a direct relationship with their favorite artists. And unlock goodies, badges, collection items.
But also to have a right of scrutiny, to see a right to vote on the projects of their artists. In return for this, they allocate a certain part of their money to the development of projects. We have taken a look at how Audius works to explain how it works, and why the native token, AUDIO, took 70% in one day. And more than 600% in less than 4 months. To analyse.
A Streaming Platform like SoundCloud, Blockchain Version
Audius is an online content streaming and distribution platform. Either the equivalent of Spotify or Youtube Music. Only, unlike these platforms, it comes from the decentralized world of blockchain. So decentralized streaming platforms, there are others. But there is only one that Binance has invested $ 1.3 million in.
What makes this project unique is undoubtedly how it works. The protocol is based on 3 specific roles. The first, which we call Discovery Nodes, play the role of search engines. A bit like Google, they will index the content present at Audius. They will also make it possible to do research via metadata. In other words, it is thanks to these nodes that you can find your favorite song by typing in the search bar "In an organized group – Jul"
Then come the others nodes, the Content Nodes. These host the content. They are like the servers of the Internet sites. It is these nodes which will contain the multimedia files, the music itself. But not only. These nodes can also contain data such as authorizations, access permissions, etc. Thanks to this particular data, artists will be able to control the distribution of their music, choose their listeners and set special conditions for accessing and listening to their work.
Finally, the last part of this protocol, but not the least. These are the content registers – Content ledger. The latter differ from the Content Nodes. The Content Nodes actually contain the media files. Content registers are a bit of the backbone of the Audius protocol. Thanks to these registers, the company will be able to implement many Smart Contract in its operation. Which may in particular develop social network type functionality, like Facebook or SoundCloud, with a feed and interactions fan – artists, or between fans, or between artists. A complete ecosystem is therefore brought into being, all to support and develop streaming and music production. No wonder Binance participated in the ICO of this ambitious project, whose quality of WhitePapper contrasts rapidly with its competitors.
One of the indicators of this success which seems to accompany Audius on the road to success? In addition to its early partnership with Binance, many names have joined this platform that recalls SoundCloud in its relationship to artists. In particular a partnership made with Tik Tok just a few days ago. It is now possible to share its content directly via the famous social network, especially popular with young people.
With the success of Audius, the AUDIO token explodes
These are the elements that have taken this project to new heights in recent days. The AUDIO, a native token, will be used at all levels of the streaming platform. It will make it possible to carry out internal transactions, but also to pay for your content. In addition, it is possible to make stacking to participate in the network while generating income. A DeFi dimension – Decentralized Finance – more and more present in the various projects which incorporates a dimension Proof of Stack – PoS.
This token has followed a dazzling development, like this project which promises to be explosive.
With a first stabilization at $ 0.077 in the first days of trading,
the token quickly took off to reach the 5,119 dollars in 4 months.
Be a 6,386% increase.
A take-off, or rather an explosion. This All Time High was reached in April of the year 2021. This was followed by a healthy correction. Such a mechanism is necessary after such powerful growth. It also marked the return to affordable levels where investors can enter to join the movement.
The correction of the AUDIO coin lasted 3 months. For nearly 100 days, the token lost 88% of its value, and exchanged for $ 0.581 on June 22.
Predictions for the AUDIO Token?
A passage through the south of the graph that lasted only a day. The next day, the token started to rise again. While Bitcoin BTC and the rest of the market were in recession from May to July, AUDIO didn't wait.
Its bullish course has since resumed, and it has already regained 590% of its price.
It is currently trading on Binance at 2.80 dollars,
after a peak marked at 4.03 dollars.
A remarkable element of this new bullish wave which has started in recent weeks. This is the explosion in transaction volume levels. In particular the day of August 17, which saw an absolute record for AUDIO with 206 million tokens exchanged. A high reached as the coin gained 70% in 24 hours.
Currently, the RSI has come down well, leaving room for further bullish acceleration. The trade volume as of August 29, 2021 is $ 137,090,987, an increase of 31% in 24 hours. The total market capitalization of this cryptocurrency is $ 948 million according to Coin Market Cap, which makes it the 88th crypto currency in the ranking.
The future is not yet written for Audius. But it seems to be going towards the sun. Meanwhile, its native token, the AUDIO, will undoubtedly come in search of new extreme values. In any case, as long as the developments are successful, the partnerships follow one another, and the successes are there.