CryptoQuant is a cryptocurrency data analysis company. In a recent report, the company looked at the relationship between the rise of Bitcoin and whales.
Whales are investors with large amounts of crypto – 1,000 BTC or more, in the case of Bitcoin.
According to the indicator "Ratio Baleias e Exchanges", the current high will be maintained by the whales.
Whales will keep Bitcoin high
The crypto market can easily be impacted by whales. A large sales order can cause a sharp drop, while a large purchase order can have the opposite effect.
Thus, it is important to observe the movements of deposits on whale exchanges in order to anticipate sudden changes in the price of digital currencies.
The indicator "Ratio Baleias e Exchanges" has this purpose. It is calculated by dividing the ten largest deposits on exchanges by the total value of deposits on the same platforms.
CryptoQuant explains that, when the ratio is below 85% most of the time, maintenance of the high is more likely.
The graph below shows that, during the BTC bullish period in 2020, the indicator was below 85% most of the time:
By way of comparison, during the sharp drops in March, the same indicator surpassed 90%.
According to CryptoQuant, values ​​above 90% represent hard falls. Between 85% and 90%, the possibility is for a correction, which does not directly imply a hard fall.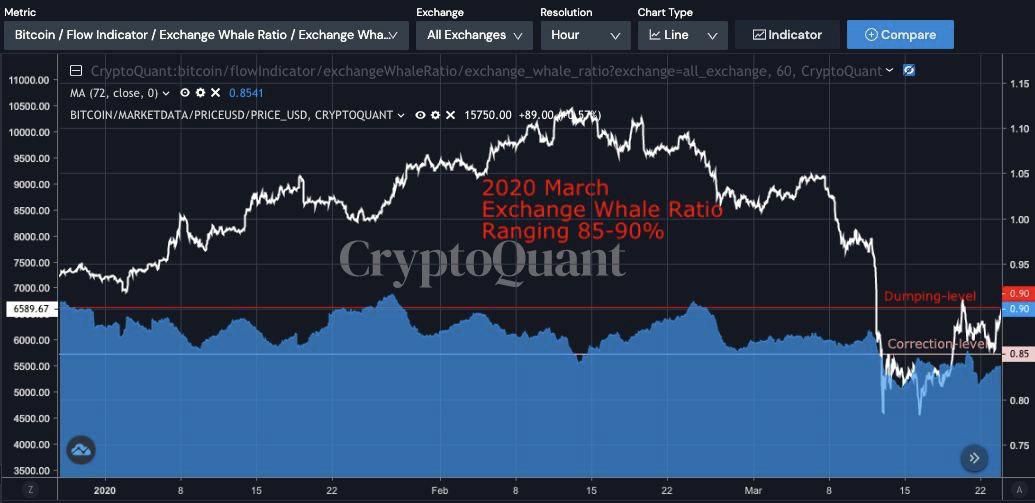 Another important indicator also makes Bitcoin bullish.
Little retail action
In addition to whales, retail users also provide an indicator.
The analytics firm points out that when the trading activity of individual investors increases, the price tends to fall. This is due to the fact that whales profit from retail negotiations.
In other words, the high retail activity points to a good time for sale. However, the activity of individual investors is currently low, according to CryptoQuant.
Thus, considering the data presented, CryptoQuant bets on a maintenance of the rise of Bitcoin by whales.
Read also: Bitcoin breaks $ 100,000 and sets new record in reais
Also read: Paulo Guedes sees possible hyperinflation: how does Bitcoin protect from the real?
Also read: Fire burns cryptocurrency wallet and investor seeds