The real faces great volatility in its anniversary month, as shown by data from the TradingView platform. The Brazilian currency has been losing value against the dollar, which ended June below R$ 5.00, and has already accumulated a loss of 6.11% in the last seven days.
As a result, the US currency is quoted at R$ 5.27 this Wednesday (7), with an increase of 1.53% in today's trading session. This is the highest value reached by the dollar in the last 30 days.
"Joy was short-lived"
Considering only business days, the dollar needed only five trading sessions to regain strength and erase weeks of positive appreciation. But what could have caused such an abrupt turn in the behavior of the real?
First, the appreciation of the dollar is not an isolated phenomenon, as shown by the international currency index (DXY), whose appreciation is 2.8% in the same period of one month. In other words, the dollar also gained value against other global currencies.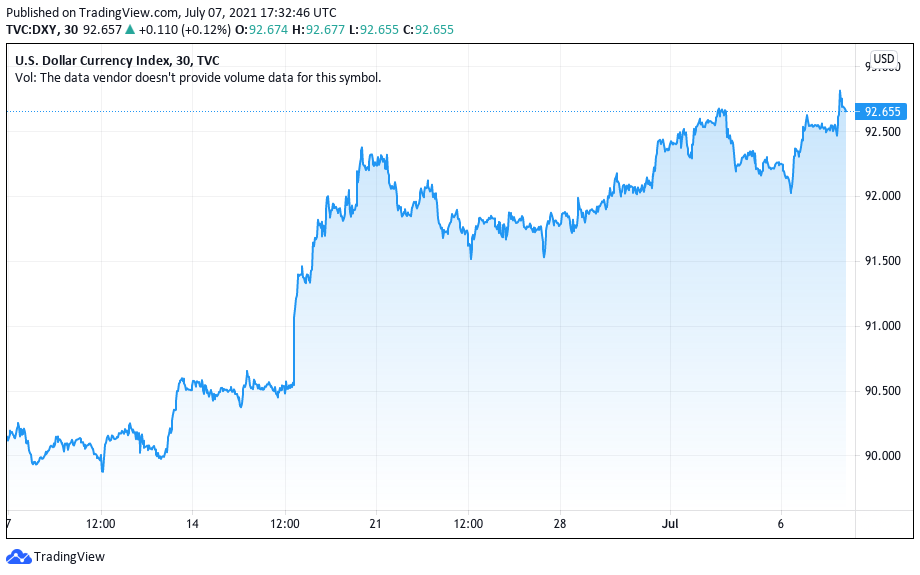 However, domestic factors made this appreciation more accentuated in Brazil, as highlighted by economist Fernando Ulrich. In the economist's view, political tensions in Brasília, as well as the poor acceptance of the tax reform, increased the degree of risk in Brazil.
"All this brings uncertainty and unpredictability, that is, things the market doesn't like. And when there is an increase in the Brazil Risk, nowadays, most of the risk is priced in the exchange rate", said Ulrich.
In this scenario, any other policy becomes irrelevant to control the exchange rate. For example, increases in the Selic rate made by the Central Bank (Bacen) contributed to the fall of the dollar. However, the effect was reversed soon after the onset of the political crisis.
This means that risk increases tend to be reflected in the exchange rate. As a result, the Focus Bulletin forecasts already predict an exchange rate above R$ 5.00 by 2024.
Bitcoin goes against the grain and gains value
While the real loses value, Bitcoin (BTC) follows the opposite path. Since the beginning of the month, the cryptocurrency has gained 2.21%, with its price quoted at US$ 34,000.
On the other hand, the BTC benefited from the rise of the dollar and, in the BTC/BRL pair, it has already accumulated an increase of 6.48% in the same period. In other words, the real is losing a war fought on two fronts, losing value to both the BTC and the dollar.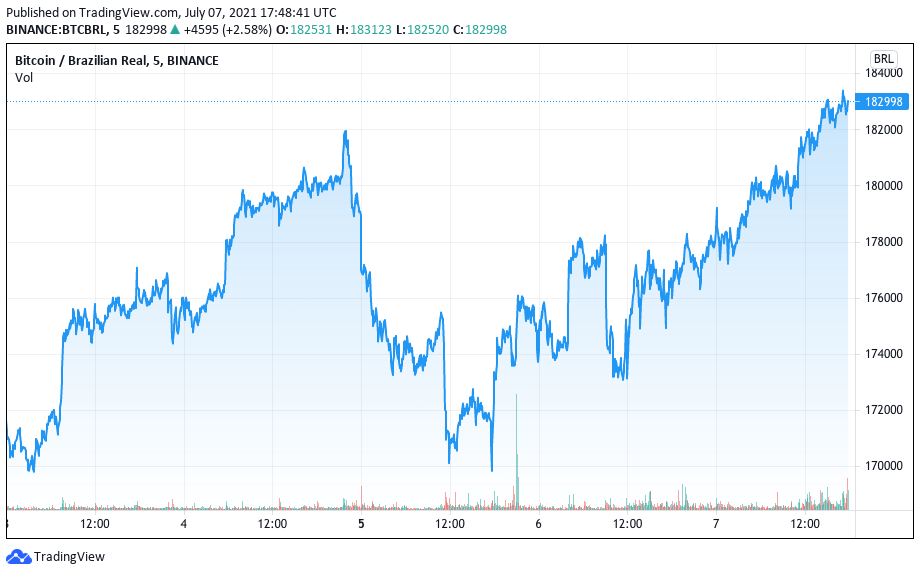 While Brazil's risks are reflected in the exchange rate, the BTC does not suffer from these interferences. There are no monetary policies or governance risks. Therefore, despite the scenario for the cryptocurrency not being the best, the BTC still manages to prosper against the real.
Read also: Visa processed BRL 5 billion in cryptocurrency payments in 2021
Read also: UFC closes biggest partnership in history with cryptocurrency company
Read also: Brazilian government negotiated bribes for vaccines in cryptocurrencies, says portal