After starting a correction on Sunday night, the Bitcoin (BTC) market continues to fall on Tuesday (23).
The cryptocurrency is back to R $ 257,000 after hard correction. In any case, BTC remains in an unimaginable price zone for a few months.
Large cryptocurrencies in market value followed the decline, causing double-digit corrections to emerge.
Bitcoin price today
According to data obtained by the WorldCoinIndex tool, BTC declined 13.53% in the last 24 hours from the writing of this article. BTC's quotation today is R $ 257,644.64.
The maximum intraday was recorded on Monday night (22), at R $ 300,438.57. The intraday low, in turn, was seen at R $ 250,295.51 just now.
According to IntoTheBlock data, about 89% of Bitcoin addresses are profiting from the current quote. Of the remaining 11%, about 6% "at zero" while 5% bitter losses.
Furthermore, Bitcoin's main indicators have shifted more towards pessimism. Two of them indicate a pessimistic future, while the remaining two remain neutral.
As for the BTC exchange volume, approximately R $ 593 billion was handled in the last 24 hours.
Finally, the Bitcoin graph for the last 24 hours can be seen below: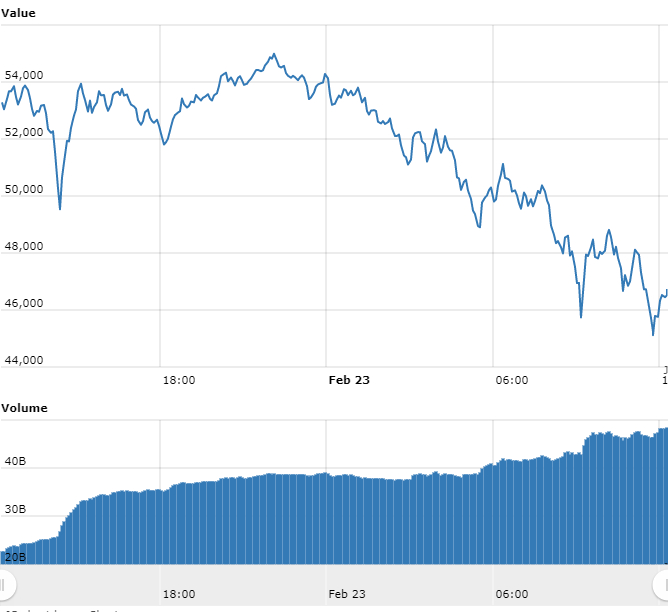 Corrections session
The Bitcoin correction caused the other large cryptocurrencies to drop in market value. Binance Coin, Chainlink and Bitcoin Cash declined respective 21.49%, 19.46% and 26.90%.
In the top 20, Aave, Stellar and Crypto.com Coin lost their respective 23.80%, 24.07% and 45.89% of their prices. On the other hand, Solana went against the grain and advanced 35.51%.
Until the closing of this matter, the total value of the crypto market was R $ 7.552 trillion, about R $ 1.416 trillion less than in the previous day. The dominance of BTC is 62.5%.
Finally, the dollar rate used to convert the amounts was R $ 5.44.
Also read: Cryptocurrency explodes 200% and may present good chance of purchase
Also read: 3 altcoins to buy and profit in the medium term indicated by trader
Read also: PetroRio results will bring joy; Petrobras'…