Crypto investment manager Pantera Capital released a report last Friday (20). The document brings exciting data involving Bitcoin and PayPal.
According to the manager, Bitcoin purchases are in full swing. Only payment giant PayPal "bought" 70% of all Bitcoins mined in the past 30 days.
PayPal's entry into the market is seen as one of the drivers of BTC's recent rise. And the Pantera chart illustrates this a lot.
Another company that has increased its purchases is Square. Its Bitcoin buying and selling service has achieved record profits in 2020.
With that, Square has been responsible for the purchase of the remaining 30% of Bitcoins.
"PayPal and Cash App are already buying more than 100% of all newly issued Bitcoins," said Pantera.
Pantera Capital warns that PayPal may be one of Bitcoin's big whales in the coming weeks.
"If growth continues, PayPal alone will be buying more than all newly issued Bitcoins in weeks," said the manager.
Bitcoin price establishes "correlation" with Fed
In addition to PayPal and the Cash App, another institution is contributing heavily to the price of BTC. This is the Federal Reserve (Fed), the central bank of the United States.
For the manager, the result of the American elections left the country even more divided. And that will put a lot of pressure on the Fed to print even more money.
"A divided American government – Congress and Democratic White House, Republican Senate – is likely to result in more pressure on the Fed to expand its balance sheet," he said.
As a result, the dollar will tend to lose more and more value. And goods that the Fed cannot "print" will benefit from the expansion.
In fact, there is already a strong relationship between the price of Bitcoin and the Fed's shares, as shown in the chart below.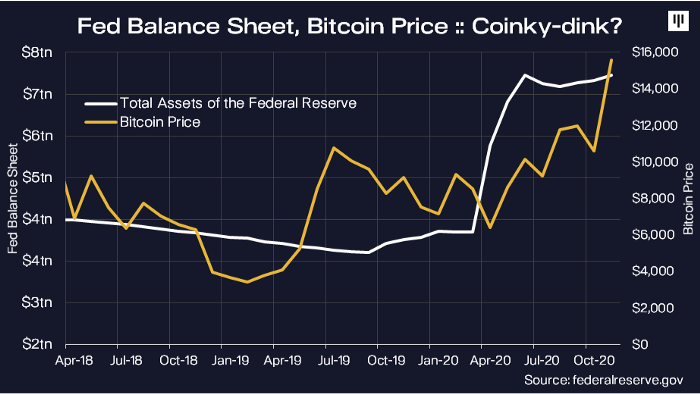 "This impression of money will inflate the price of things whose quantity cannot be 'facilitated' – such as gold, Bitcoin, real assets and even stocks," said the manager.
Read also: Bitcoin may triple in price with investment of 3 billionaires
Also read: Shares of large companies are more volatile than Bitcoin
Also read: Investor misses and pays R $ 250 thousand to move R $ 1,000 in Bitcoin