A text by Adeilton Filho.
We all know that, to some extent, the value of a currency is related to its use, therefore, the number of transactions carried out, as well as the growing capacity to handle more and more transactions to maintain its potential value.
After all, cryptocurrencies must first of all offer the ability to process transactions that meet demand, such as a point-to-point ATM system.
This is a big challenge, but Bitcoin Cash (BCH) has so far been developing very satisfactorily. Some billion dollar credit card networks may already be in demand for their customer transactions supported by BCH's blockchain.
In this text it will be analyzed which credit card companies that BCH could be a strong competitor.
The first credit card network to be compared is Discover Financial Services, which operates the Discover and Pulse networks, and owns Diners Club International.
Discover Card is considered the third largest credit card brand in the United States. When measured by current cards, its market value is $ 26.03 billion.
The second company to be compared to BCH is JCB, a credit card company based in Tokyo, Japan. Its market cap is $ 96.85 billion.
The third to be compared is American Express, which currently has a market value of $ 105.39 billion. Certainly one of the most valuable brands in the world.
The statistics
Diners Club International, along with Discover Card, processed 2.8 billion transactions in 2018 worldwide. According to data from the Statista website, therefore, an average of 88 transactions per second can be inferred.
In 2018, JCB processed about 3.9 billion transactions, resulting in an average demand of 123 transactions per second.
While American Express outperformed the others with 8.3 billion transactions in the same year, resulting in an average need of 263 transactions per second.
Bitcoin Cash x Credit Cards: comparison and results
The BCH with an average transaction size of 481.62 bytes, can perform about 116 transactions per second. For a more in-depth explanation, you can read the Coinanalysis post.
But, according to the data extracted in the last 30 days (12/15/2019 – 1/14/2020), the average size of each transaction has been 384.30 bytes, so the network would be able to process 146 transactions per second.
We also know that a simple "standard" transaction needs only 226 bytes, so theoretically the network could process 247 transactions per second.
The calculations in this text disregard the speed with which the BCH can process blocks and send them. Thus, it is a hypothetical demonstration of its potential.
Let's compare these different processing capabilities with those of card networks. Then we can produce the following table: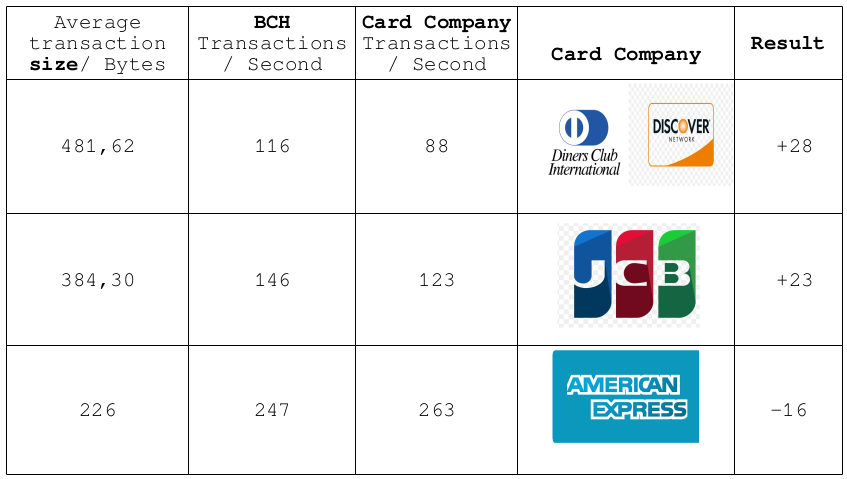 The table above shows that BCH is capable of meeting a higher demand than that of the Diners Club and Discover Financial card.
Using the average transaction size of the last 30 days of the BCH, which was 384.30 bytes, the BCH is capable of meeting, with a surplus of 23 transactions per second, the demand for transactions from JCB clients.
Finally, the table above shows that only 16 transactions per second were missing to meet the demand of American Express customers, even considering an average transaction size of 226 bytes.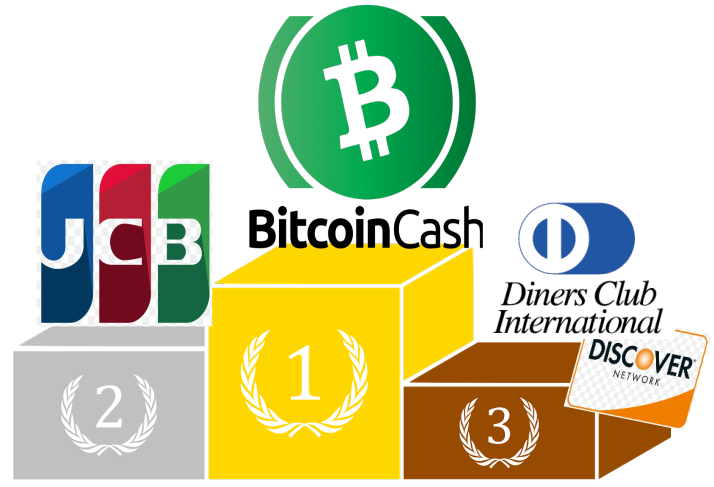 So, you can see the important advances that the BCH system has made in recent years. There is a growing potential to establish itself as a common currency in the future and a free tool for daily payments by a significant number of people worldwide.
For more analysis like this, follow Cointimes on the main social networks: Facebook, Twitter and Instagram.