How to buy cryptocurrencies is a doubt that grows every day. That's because, in recent years, the cryptocurrency market has grown a lot in Brazil and worldwide. More and more investors are looking to invest money and obtain good returns. However, there are still many people who do not know how to securely acquire cryptocurrencies in Brazil.
The process is quite simple, but deserves special attention. This guide is intended to assist you in solving this problem. Here we will inform the ways to buy cryptocurrencies, which exchanges to choose and the payment methods that can be used.
Buy and sell cryptocurrencies
Before we start, let's review the Brazilian legislation on cryptocurrencies how to buy. Their purchase is not prohibited in Brazil. For this reason, the activity performed by companies does not have legal limitations. However, not all countries in the world have this openness; many restrict trading or even ban Bitcoin.
Currently, there are 129 countries where buying Bitcoin is not prohibited (countries in green). In South America, only Bolivia establishes a ban (red) for this market. Countries in yellow, however, establish some restriction, but do not totally prohibit it. The data can be checked on the coin.dance website.
Brazil
The scope of the regulation – including who should regulate the activity – is not defined in Brazil. The Securities and Exchange Commission (CVM has not yet established rules, nor the Central Bank (Bacen). The process is still ongoing, but there are currently three bills dealing with the subject:
PL 2303/2015

: authored by deputy Áureo Ribeiro (SD / RJ), the project was the first to deal with regulation of crypto assets. The PL "provides for the inclusion of virtual currencies and airline miles programs in the definition of' payment arrangements '. Both are placed under the supervision of Bacen;

PL 3825/2019

: this PL was proposed by Senator Flávio Arns (REDE / PR). It is a broader law than the previous one and deals exclusively with cryptography. In addition to the regulation, the PL establishes guidelines for the market, rules for fighting crimes and also about how cryptocurrency brokers are licensed;

PL 4207/2020

: the third and most recent PL on cryptocurrencies. The main point is the attribution of competences

inspection and regulatory bodies such as the Federal Revenue Service, Bacen, CVM and the Financial Activities Control Council (COAF). The PL also classifies crimes against the Financial System, including those of the financial pyramid.
Portugal
According to Banco de Portugal (BdP), the issue and trading of cryptocurrencies are not regulated in the country. There is also no supervision by the BdP or the National Securities Commission (CNMV). In addition, they are not legal tender in the country, as they are not classified as currency.
However, their use and commercialization is also not prohibited. That is why the market is in a legal limbo, just like in Brazil. Exchanges and custody services are free to act without being interfered with by regulators. However, these companies need to follow certain rules, such as performing customer identification (KYC) and keeping documents regarding operations.
Where and how to buy cryptocurrencies?
For buy cryptocurrencies there are at least three main options. The first is through direct purchase (P2P). This transaction involves two people, one buyer and one seller. The seller defines the price at which he is selling, whether the buyer accepts the offer or not.
A second way of obtaining cryptocurrencies does not involve buying, but mining cryptocurrencies. Cryptocurrency mining is the process by which new Bitcoin blocks are created and, consequently, new Bitcoins are issued. There are several ways to mine cryptocurrencies, which we will see more in depth in a specific tutorial.
Cryptocurrency Exchanges
The third way to buy cryptocurrencies is by purchasing from cryptocurrency exchanges. Exchanges (or brokers) are companies that mediate the purchase and sale of cryptocurrencies between people. The operation works similarly to the P2P market, but here the volume of customers served at the same time is greater.
To start trading on an exchange, the process is simple. In Brazil, you usually just need to register with your email and personal data. In your registration, you will create a password to be able to operate on your exchange account. The process is usually quick and the account will be open in a few minutes.
However, this is only the first step. Exchanges also usually require you to copy some documentation (usually the ID) to confirm your identity. This process is called customer verification (KYC). Additionally, she may ask for some data, such as proof of income, to release higher transaction limits.
Another security mechanism that exchanges have is two-factor authentication (2FA). 2FA is a layer of protection that means that, in addition to your default password, a second password is required to access the account. This password is generated randomly in applications – the most famous are Authy and Google Authenticator – or in physical devices.
Activation of 2FA is the responsibility of the user. Some exchanges do not require activation, while in others it is mandatory; few exchanges do not have 2FA. Prefer to use exchanges that have 2FA and always leave it active, as its use can prevent attacks and thefts to your account.
List of cryptocurrency brokers
Although the market is quite new, the list of cryptocurrency brokers has been growing at a fast pace. Today there are already dozens of companies offering this service and each of them has its own particularities. Therefore, it is necessary to be attentive when choosing the best platform.
The choice of a broker will depend a lot on your personal profile. For example, there are brokerages that offer mobile applications. Others have lower rates. Some help the user to compile their transactions for the income tax return, and so on.
In addition, competition is global, as you can trade with foreign brokers. An advantage of foreign brokers is the greater trading volume. With this, you can trade larger quantities with more liquidity and agility.
In general, seek to know the opinion of other users about that broker. See what they say about security, usability, fees charged and other aspects. Through platforms such as Reclame Aqui, you can enter the name of the exchange and check its "reputation" in the market. Groups specializing in cryptocurrencies are another good source.
There are some brokers that are well known in the Brazilian market. You can check a list of them on the website ValueBitcoin. The tool classifies brokers by price, volume, premium and other criteria, in addition to offering market reports. Among the main exchanges, it is worth mentioning a few:
How to buy cryptocurrencies? The best payment methods
After knowing the exchanges and opening your account in one, the time has come to make the purchase itself. For this, payment methods are still limited. Most exchanges work with cash, which means that you must deposit funds into your account before trading.
For this, the exchange makes bank accounts available to its customers. You must send your money to that account. Once this is done, the funds will enter your account, and then you can buy the cryptocurrencies. This process can take a few minutes or up to 24 hours, depending on the bank being used.
Ideally, you should look for an exchange that has a bank account at the same bank as you. With this, you can reduce a number of costs, such as charging TED. In addition, transfers between accounts at the same bank are faster than between different banks, which facilitates transactions.
Finally, many companies make it possible to purchase Bitcoin with credit / debit cards or boleto bancário. There are still platforms that allow the use of services like PayPal. In fact, PayPal itself plans to launch a Bitcoin purchase service coming soon.
Buy cryptocurrencies with credit and debit card
Currently, there are several exchanges that allow you to buy cryptocurrencies with a credit and debit card. The use of this tool brings a number of practicalities and even allows you to purchase larger quantities. However, you need to be aware of fees, which may be higher than other means of payment.
In addition, there are other limitations. In Brazil, there are practically no exchanges that accept credit cards as payment. Due to the high rate of fraud and chargeback requests, many companies ended up eliminating this option. Card purchases are generally allowed on international exchanges, such as Binance and Coinbase. But some may place restrictions on cards issued in Brazil.
In general, exchanges usually list payment methods on their platforms. So, you can choose your favorite shape. Then just connect your credit card or PayPal account to perform the operation. The image below shows an example of how to make this purchase on the Coinbase exchange.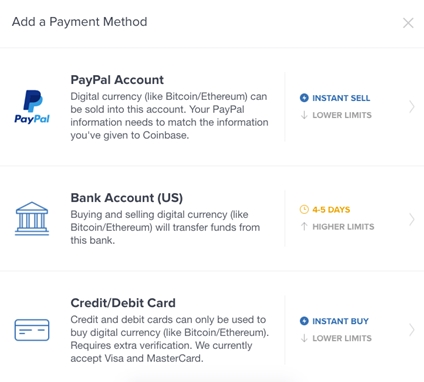 Bank transfer
Bank transfer is the main form of payment for buying cryptocurrencies. It is used by virtually all exchanges, as we saw in the topic of best forms of payment. In addition, it is also used in direct sales (P2P).
To make a payment via bank transfer, the process is simple. If you are buying Bitcoin, the P2P seller informs you of the price he asks for. If you agree, it will pass the details of the account in which you must make the deposit. If you are selling Bitcoin, then you are the one who should inform your bank details to the buyer.
Typically, P2P vendors have a transaction security procedure. In the case of buying cryptocurrencies, they wait for the money to enter the account before sending the cryptocurrencies. In the case of the sale, they wait for the customer to send the Bitcoins before sending the money.
Buy cryptocurrencies PayPal
Purchasing cryptocurrencies by PayPal works similarly to purchasing with a credit card. After all, PayPal is usually connected with a card or bank account, acting as an intermediary between the exchange and the account / card. Exchanges usually offer a field to connect to your PayPal account, allowing the transaction.
Both when buying with Bitcoin and when buying with a card, companies usually do an information check. Therefore, these means of payment are generally available only to accounts verified by the KYC process. This is because both PayPal and credit cards may be subject to usage restrictions for cryptocurrencies.
Best cryptocurrency wallets
After purchasing your cryptocurrencies, it's time to choose the best place to store them. Many people prefer to leave on exchanges, because of the practicality and supposed security. However, this is not the best option. If an exchange is the victim of a hacker attack, you could be without your cryptocurrencies forever.
So the really safe way to store your cryptocurrencies is to do so in a wallet. Thus, only you will have access to your money and you will not be at risk of suffering losses from hackers. Although there is no "best portfolio" in general, we have many options to choose from in the market. The best cryptocurrency wallets are divided into three types:
Online wallets (hot wallets)

: are

apps

that work connected to the internet. They are very practical for using Bitcoin as a currency in

day-to-day

because they allow for quick spending. However, passwords are in constant contact with the internet, so they are not so secure to keep them stored for a long time;

Paper wallets

: these wallets can literally store their Bitcoin in a

piece of paper

, where passwords are noted. They also have no internet connection, which makes them the most

safe

between the types of portfolio. They are indicated only to store your Bitcoins safely, as they are not practical for daily use;

Hardware wallets

: are

physical devices

specific for cryptocurrency use. These wallets store private keys inside the device, which does not come into contact with the internet, which makes them very secure. They can be used to send and receive Bitcoins without risk.
As a tip, give preference to a wallet that is practical to use. At the same time, it needs to be safe enough not to expose you to the risk of loss. This wallet needs to have a password that is only under your control. Thus, strangers and attackers will have a harder time stealing your cryptocurrencies.
Also read: CryptoBible; A guide to the world of cryptocurrencies
Also read: Ethereum for beginners
Also read: Bitcoin for beginners