One of the largest dedicated server hosting providers (Hetzner), very popular among cryptocurrency nodes like Bitcoin and Ethereum, can terminate all crypto-related activities by arbitrary decision.
Hetzner Dedicated Servers and Cryptocurrencies
One of the largest dedicated server hosting service providers in the world, Hetzner, is embroiled in a controversy with crypto enthusiasts and node owners with new information that came to the public's attention, initially, 24 days ago, without much repercussion, but now it begins to evolve in possible consequences and public knowledge.
In accordance with Hetzner's Terms of Service, for the use of dedicated servers (dedicated servers), hosting for the purpose of mining cryptocurrencies is prohibited – which is already known and easily accessible information for anyone who wants to become a customer of the company.
However, on August 23, 2022, Hetzner's official profile on its own reddit answered the question of a user who asked if he could use the service to run a blockchain node on a dedicated server. The answer was as follows: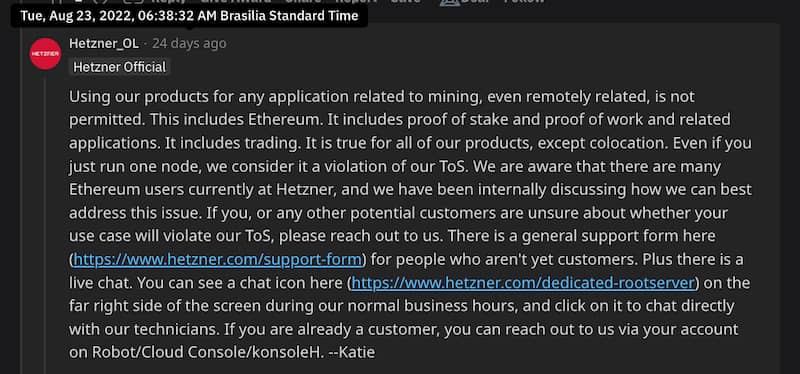 "It is not allowed to use our products for any mining-related application, even remotely. This includes Ethereum. Includes proof-of-stake and proof-of-work and related applications. Includes trading. This goes for all our products except colocation. Even if you only run one node, we consider it a violation of our ToS."
This new stance by Hetzner on its dedicated servers has sparked outrage from the crypto community, as there is a big difference between running a node and mining.
This morning, the well-known account Seth for Privacyshared a screenshot of an email, allegedly sent by the Hetzner team, confirming the information on reddit and stating that:
"Confirmed, they will soon take action against any cryptocurrency-related usage, even just running nodes."
It is recommended that any node operator using Hetzner's dedicated server services start looking for alternatives as soon as possible, as the servers can be shut down at any time.
Hetzner is responsible for a high percentage of node hosting on the most diverse blockchain networks, with percentages exceeding 20% ​​in many cases. Direct company action against node operators who do not perform the migration in advance could cause temporary problems on these networks.
What is a dedicated server?
A dedicated server is a type of remote server that is fully dedicated to an individual, organization or application. It is deployed, hosted and managed by a cloud or managed hosting service provider such as Hetzner (MSP).
A dedicated server is exclusive and not shared with any other client, service or application.
Many node operators choose to run the software on dedicated servers because they offer a good level of privacy and autonomy over operations in virtual machines, with greater security and without having to build a large computing infrastructure on their own.
Read more:
Buy and Sell Bitcoin and Other Cryptocurrencies on Coinext
The complete broker to safely and conveniently invest in the most traded cryptocurrencies in the world.
Sign up and see how simple it is, go to: https://coinext.com.br