Brazilian cryptocurrency fund manager Hashdex released its monthly letter to investors. And the big highlight was the profitability of its funds.
The company's top three funds (Discovery, Explorer and Voyager) performed strongly in January. The first had an increase of 9.4%.
Explorer and Voyager had performances of 18.9% and 43.4%, respectively. In all cases, the appreciation of the funds was greater than the performance of Bitcoin, which rose 3.53% in January.
As a result, the performance of the manager's cryptocurrency index (HDAI) was also quite high. HDAI appreciated 25.2% in January, despite the high market volatility.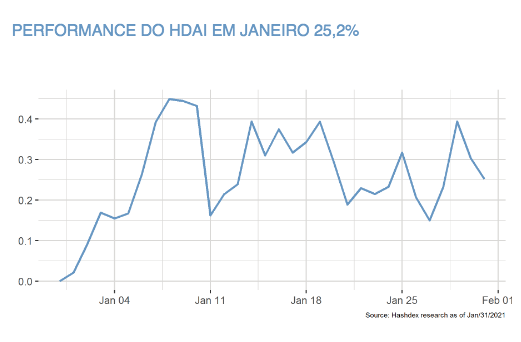 The highlight was the Voyager fund. Created in July 2019, the fund invests 100% of its capital in cryptocurrencies. With a return of 356%, it ranks among the most profitable funds in Brazil in the year.
Manager reaches R $ 1 billion mark and record of quota holders
With such performance, the demand for Hashdex funds was quite intense. Recently, the company reached the important mark of R $ 1 billion in assets under management.
According to Hashdex, the falling interest rate was one of the factors that drove growth. It motivated investors to seek diversification of assets in their portfolios.
In addition, the performance of Bitcoin, which has already increased by more than 400% over the past 12 months, has also created a favorable environment for the company's expansion.
"We have seen a great maturation of the global crypto ecosystem. This drew the attention of institutional investors, who are already more comfortable with this market, and also had a positive impact on investors looking to improve the risk and return of the portfolio ", said Marcelo Sampaio, CEO of the manager, in an interview with Forbes Brasil .
For João Marco Cunha, portfolio manager at Hashdex, the goal is to continue growing in 2021 and offer new and increasingly better products to customers.
"The expectation for 2021 is for even greater growth than last year. For this, we will bring new products, for example, the gold and Bitcoin fund launched at the end of last year. We will seek presence in more distribution channels and we will continue our mission to educate the market about this very promising asset class ", he said.
Also read: Leader of alleged Bitcoin pyramid found dead in Santa Catarina
Also read: DeFi cryptocurrency is hacked and suffers R $ 14 million leak
Also read: DeFi has cryptocurrencies that can jump 100,000%, says trader