Ethereum has been rising quite a bit over the past few weeks, and since our last analysis, it has gone from $ 340 to over $ 600 in two weeks.
What to expect from this crypto after such an expressive increase? Will we have corrections or will it continue to rise?
Check out today's analysis!
Weekly chart
When looking at the weekly chart, we can see the prices are "stretched". After reaching US $ 480 on August 31, ETH made a correction up to US $ 310 dollars.
Since then, the cryptocurrency has only risen to reach US $ 625. All this bullish movement started when we had a bigger fund than the previous one, around March 2020.
At that time, ETH was worth less than $ 150.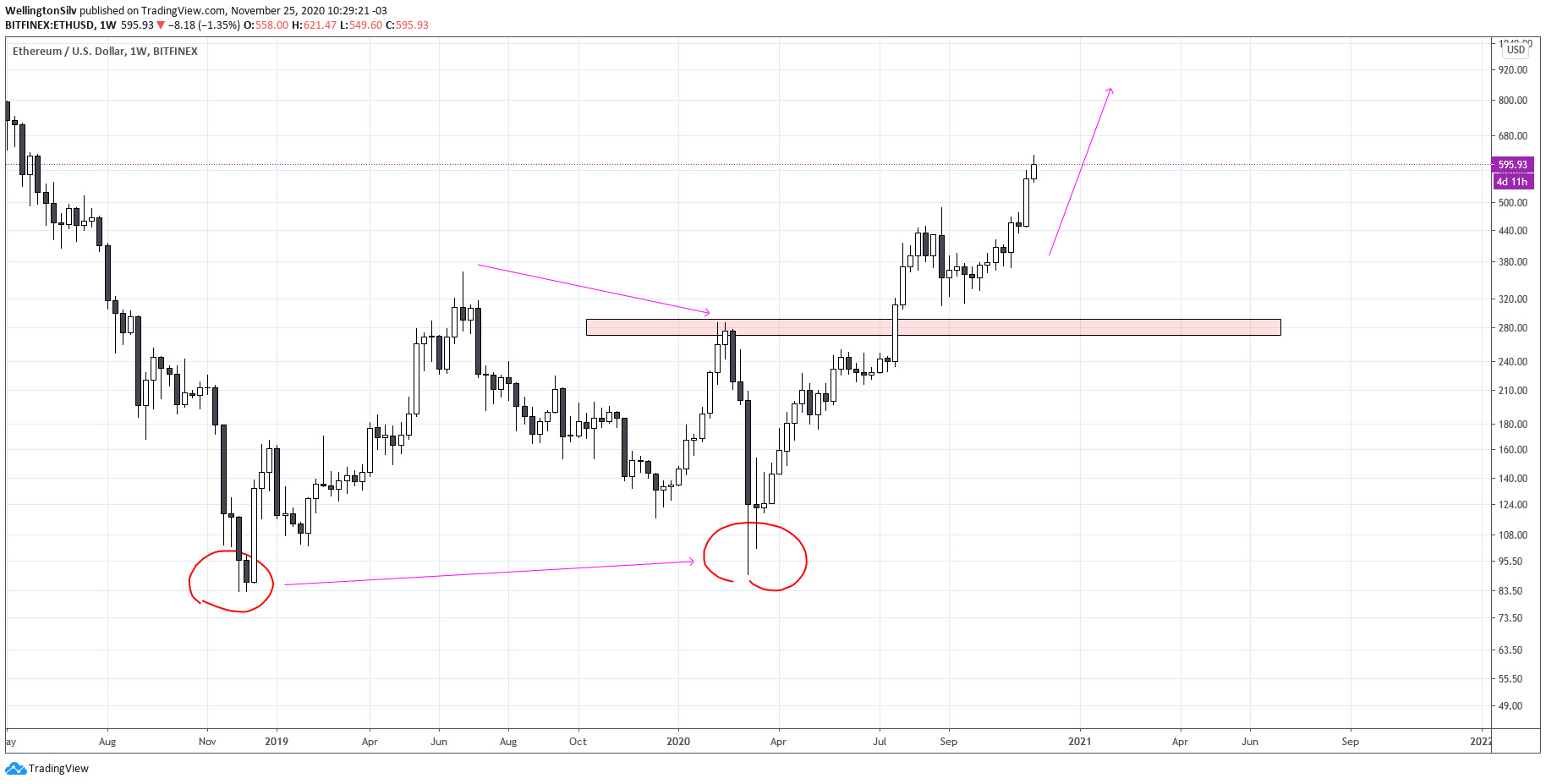 When tracing a Fibonacci extension, we see that prices are close to the 1.618 level. This is an important Fibonacci resistance over a 3 bullish wave.
Thus, around US $ 650 and US $ 680 we can have a correction in prices.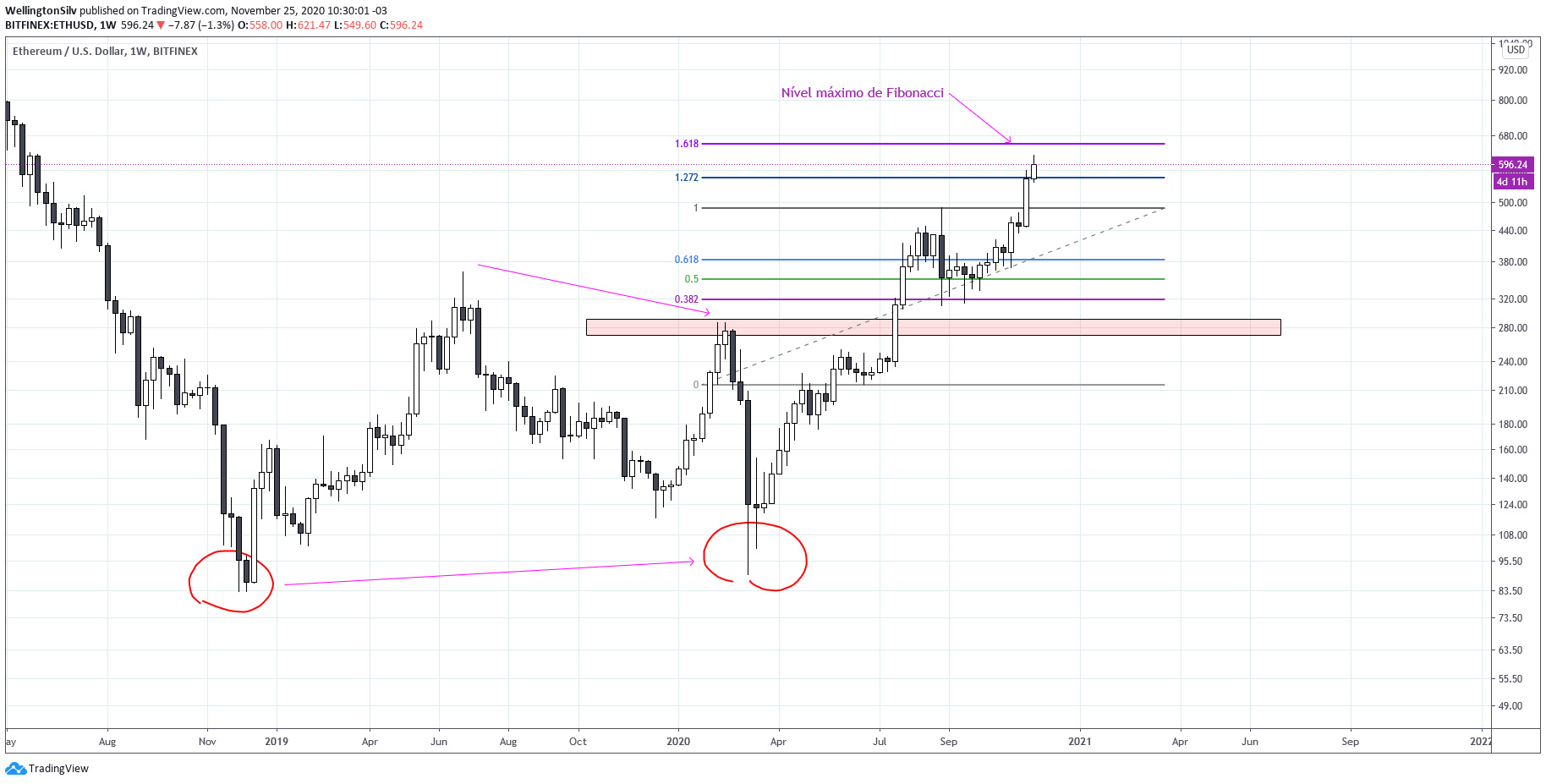 Daily chart
If we have a price correction, that correction could bring ETH to the zone between $ 550 and $ 480.
If ETH remains above the high trend line (LTA), this correction will be a great opportunity to increase positions or start an operation on Ethereum.
This is because prices will be cheap for medium and long-term buying operations.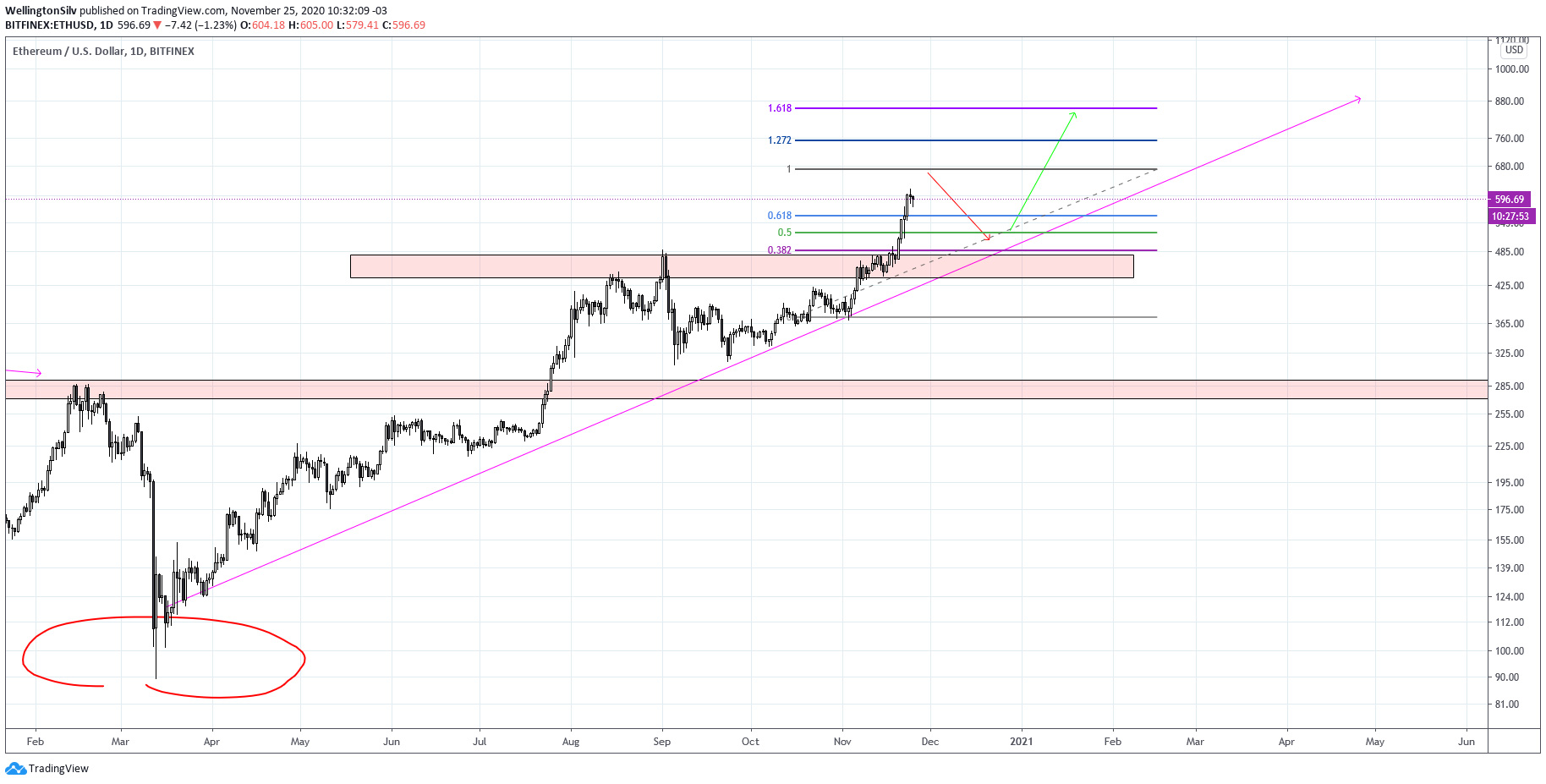 Conclusion
I still have Ethereum in my long-term portfolio because it is a solid currency and is at a low price compared to what it was worth in the past.
Take care with bets and searches for short-term profits on that asset. In the short term, Ether tends to be a super volatile and risky crypto. In the long run, this risk can be diluted.
When in doubt, better to stay out and protect your money.
Read also: VeChain rises 60% and may double in price, bet traders
Read also: Bitcoin can correct up to R $ 74,600, trader alerts
Also read: IRB (IRBR3): what will be the company's outcome?
Notice: The information contained in this document is not guaranteed, is not intended to be comprehensive and is strictly for informational purposes only. It should not be considered as an investment / trading recommendation. All information is believed to come from reliable sources. CriptoFácil does not guarantee the precision, accuracy, or completeness of the information in its analysis and, therefore, will not be responsible for any losses incurred.