The cryptocurrency market started to recover this Thursday (13) with some cryptoassets registering double-digit highs. This was the case for Dogecoin (DOGE) and Shiba Inu (SHIB) meme coins, which jumped more than 10% in the last 24 hours, after weeks of losses.
At the time of writing, DOGE is trading at $0.17 and SHIB at $0.00003198.
Meanwhile, the market cap of the first meme cryptocurrency is above $22.5 billion, putting it in 12th position on the CoinMarketCap ranking.
Shiba Inu, on the other hand, has a current market value of around US$17.5 billion and is slightly behind DOGE, in 14th place.
Dogecoin (DOGE)
This most recent rally was enough for Dogecoin to return to what it was trading earlier this year.
But the first few weeks of 2022 were disastrous. On January 10th, DOGE hit its lowest price in 9 months at $0.14.
Furthermore, its current price is still a far cry from what Dogecoin once achieved. More precisely, it is almost 77% below the all-time high of $0.73 reached on May 8, 2021.
But forecasts are optimistic. As analyst Rua Ekta Mourya highlighted, Dogecoin has returned to the list of popular cryptocurrencies belonging to Binance Smart Chain's Top 1,000 Whales.
"Large portfolio investors on the BSC network hold Dogecoin among other top cryptocurrencies in their portfolio. Transaction activity on the Dogecoin network has increased along with an increase in the price of memecoin."
On the cryptocurrency price, analyst Kaleo stated that DOGE's next target is $0.24. Therefore, a price more than 40% above the current one.
Shiba Inu (SHIB)
As for Shiba Inu, the current rally has put the token price very close to what it was at the beginning of this year, when it cost $0.000033.
Like Dogecoin, on January 10, the crypto asset bottomed out at $0.00002629. This is the lowest since mid-October 2021.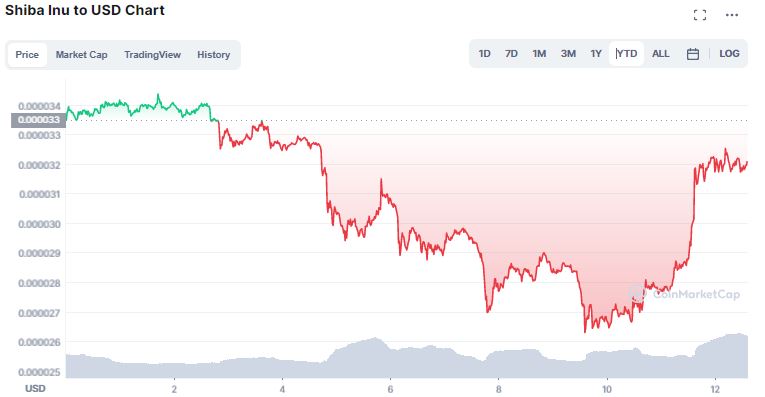 Anyway, the current price of SHIB is still almost 64% below its all-time high of $0.00008845 reached in late October 2021.
Finally, as far as future projections go, analyst Sarah Tran predicts that SHIB could jump another 46%:
"SHIBA looks set for a 46% increase as it approaches the upper bound of the technical standard. Cutting above $0.00003214 would put the bullish target at $0.00004693 on the radar."
Also read: Senate will analyze three projects to regulate cryptocurrencies
Also Read: Crypto.com CRO Cryptocurrency Could Rise 20% Says Analyst
Read also: More than 30% of small businesses in Brazil plan to accept cryptocurrencies in 2022, reveals Visa