The price of Bitcoin (BTC) returned to above US$ 57,000, breaking important barriers and heading towards a new historic high, according to analysts.
This new rise in the price of the largest cryptocurrency on the market left investors confident about the future of the entire market. One of the analysts who is hopeful of a new historic high in the market is Justin Bennett.
He said Bitcoin and the crypto-actives markets are on the verge of a massive explosion. This supposed rally could raise the valuation of all digital assets to $10 trillion, according to Bennett.
In addition, the analyst said that charts tracking the value of the entire cryptocurrency market are close to breaking a crucial resistance area.
"The total market value of cryptocurrencies is holding stable below resistance. $2.4 trillion is the level to be broken. $2.44 trillion to be safe," he said.
cryptocurrencies
In that sense, Bennett predicts that once the market clears its final area of ​​resistance, the skies will be clear for a $10 trillion increase in a matter of months.
"The value total cryptocurrency market is testing its May trendline. If you break this, you will achieve new highs of all time. And we could reach a market value of $10 trillion in early 2022," he said.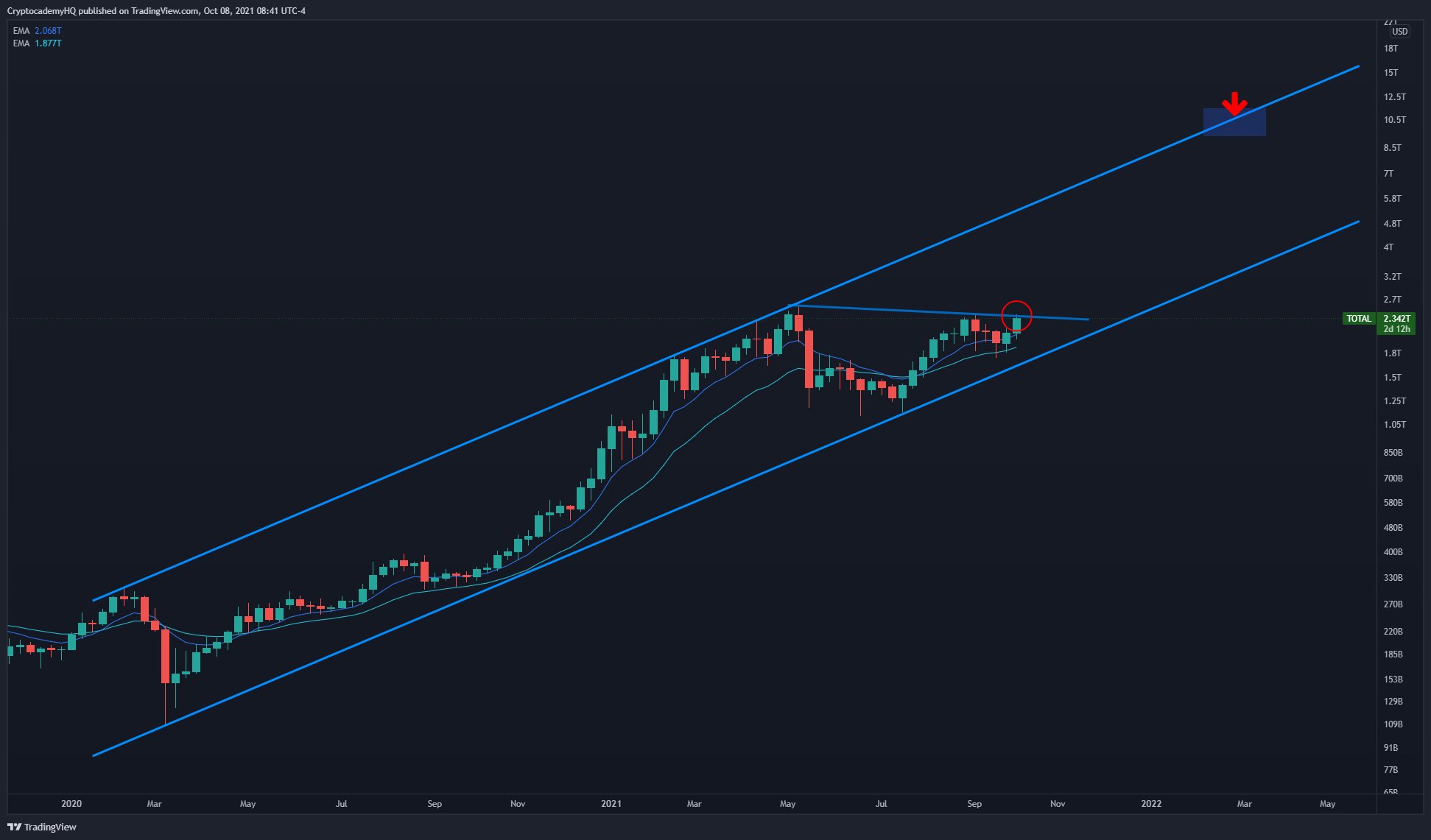 As for the catalyst that could fuel the rise of the graph of all cryptocurrencies to new highs, Bennett it says that Bitcoin should lead the charge.
"I think it's a little naive to doubt the potential of a value of cryptocurrency market in $10 trillion in the next 3 to 6 months. If the BTC exceed $65,000, the momentum shift will be strong. Furthermore, the total market value has already risen 20 times since March 2020. So what is another 4.2 times?
Finally, the analyst reinforced the importance of BTC surpassing the previous record:
"Notice I said, 'If the BTC breaks $65,000,' that's crucial! As optimistic as it has seemed recently, it all depends on trading Bitcoins above $65,000 this year," he concluded.
Read also: Gavea launches, with blockchain, the country's first digital agricultural commodities exchange
Also read: Bitcoin tops $57,000 for the 1st time in 5 months; analysts point out reasons for the rise
Also read: Axie Infinity has risen 223 times this year: here's what's driving AXS