The timing is ideal for European Bitpanda, established in France since May 2020. The global democratization of crypto-assets is driving the growth of the company. And thanks to AMF approval, Bitpanda is developing rapidly in France.
Bitcoin, locomotive or scarecrow? Probably a bit of both. Cryptocurrency is criticized for its highly speculative nature. However, BTC is also helping to accelerate the democratization of crypto-assets.
And European actor Bitpanda won't be complaining. Founded in 2014 in Austria, and already profitable, it now employs 320 people and has 1.8 million users. As for its European development, it is accelerating.
In France, the adoption of digital assets is accelerating
Last September, the company raised $ 52 million in Series A to support its international expansion. A few months earlier, in May, Bitpanda established itself in France. And since last December, it can boast of benefiting from AMF approval.
Established in Austria, Germany, Switzerland, France, Turkey and Italy, Bitpanda now plans to enter new markets. Its objective remains unchanged: to democratize investment. And cryptoassets are one way to do it today.
However, the "neo broker" also offers on its platform to invest in precious metals (gold, silver, platinum and palladium), in addition to around fifty cryptocurrencies. And the latter undeniably represent a lever for growth today, especially in France.
However, the country was not a front runner in terms of adoption when the company began in May. " Adoption was lower than in other European countries like Spain, for example », Notes the French director of Bitpanda, Giulia Mazzolini.
"Today, there are three times as many new users on the platform every day compared to last year," she adds. This reflects for the leader a growing interest, which takes advantage of "the global conditions of the cryptocurrency markets. "
An AMF "trust stamp" for clients
For Giulia Mazzolini, this can be explained by increased confidence in these digital assets. For its activity in France, Bitpanda would also benefit from its approval an AMF, a " trust stamp " for the customers.
This procedure promotes the registration of new users, but also an increase in transaction volumes, welcomes the boss of the crypto company. However, the climate of trust is more general.
"This industry was previously more reserved for private investors with knowledge of cryptocurrencies. From now on, there is growing interest from institutional investors, which contributes to mass adoption, "comments Giulia Mazzolini.
And this trend is particularly evident among Bitpanda's user base, which is very diverse in terms of profiles. As such, the company defends a platform designed from the outset to meet the needs of a population of investment product neophytes.
The user spectrum goes like this " from the student starting to invest to the banker already very comfortable with investing. And cryptocurrency is also attracting a growing share of women. This trend is global, as evidenced for example by a study by Grayscale.
Leverage payments for mass adoption of crypto
Crypto-assets, on the other hand, remain mainly investment-oriented, and in particular long-term on Bitpanda, which also offers savings products. Crypto as a means of payment, including on a daily basis, could however develop significantly in 2021.
Several multinational payment companies, such as PayPal and Mastercard, are entering this market or are planning to do so this year. In addition, new generations of bank cards are emerging to further democratize these uses.
At the end of January, Bitpanda announced its Visa debit card. In pre-order, it can be activated in France from the end of February. And this card responds to a demand from company users, says its manager.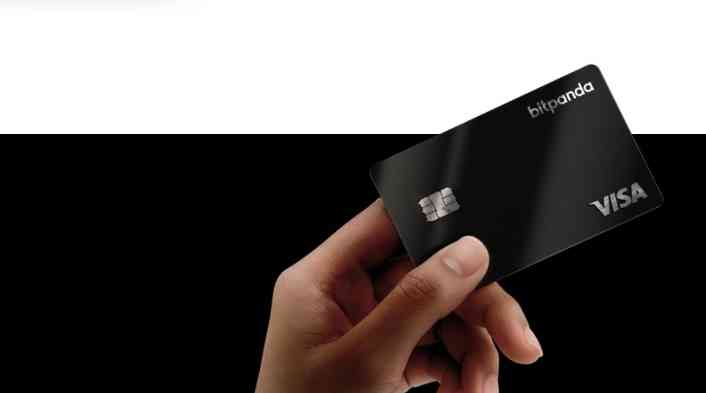 This card thus makes it possible to spend the assets of the wallet. And beware, unlike some of its competitors, this is not " of a prepaid card. It is directly linked to the Bitpanda wallet. It allows you to spend any asset, be it cryptocurrency, precious metals or fiat currency. "
To function, the card is managed from the Bitpanda application. This allows the user to assign any of their assets to their card payments. " The aim is to facilitate spending and access the capital that belongs to us 24 hours a day. ", Explains Giulia Mazzolini, who further specifies that no fees are charged on the card.
A "positive" European regulatory framework
Thus, its use is possible in any point of sale that accepts Visa cards and thus makes it possible to pay any daily expense. For Bitpanda, this type of service will directly contribute to the mass adoption of digital assets.
Could regulation not however curb this ambition? The leader welcomes the efforts made over the past 12 months at European level to establish a regulatory framework. " If many perceive it as a brake, I consider it on the contrary as positive », She considers.
Admittedly, compliance represents " huge and extra work », For a significant cost. The harmonization of regulations across Europe is nevertheless an opportunity and a source of simplification.
"In the long term, this will build a lot of confidence", both for individuals and institutions. "This will legitimize the place of cryptocurrencies in the world of investment", anticipates the director France.
Compliance will not, however, be the only or even the main focus of Bitpanda in 2021. The company sees beyond just crypto-assets and aims to become a global investment platform. It will therefore launch digital stocks this year, in all of its markets, but at a date not yet defined.