In November, Brazilians traded 26,655.94 Bitcoins, according to data from cryptocurrency exchanges operating in Brazil. The volume handled is equivalent to approximately R$ 9.08 billion.
According to the most recent report by Cointrader Monitor (CTM), the volume handled in BTC suffered a decrease of 24.9% compared to the month of October (35,482.50 Bitcoin).
Likewise, the volume of Reais needed to move this amount of Bitcoins was reduced by 21.07%. In October, approximately R$11.5 million in BTC were moved.
As reported by the CTM, throughout November, the market-leading cryptocurrency devalued 6.89%. On November 1st, each Bitcoin cost R$348,285. And, on November 30th, the price was R$ 324,284.
This Monday (6), Bitcoin continues at a low trading at R$ 275,363.
Binance continues to lead in Bitcoin volume
For the survey, the site collected data from APIs made available by 32 exchanges. Brokers consulted include: Binance, Bitcoin Market, BitcoinToYou, BitcoinTrade, FTX, BitPreço and Alter.
The report highlighted that Binance continues to be the exchange with the highest volume of BTC traded. The brokerage has been a leader in trading in Brazil since March this year, having traded 9,256.74 Bitcoins in the last month.
As a result, Binance was responsible for 34.7% of Bitcoin trading in Brazil, increasing its share of the national market. By way of comparison, in October, the exchange traded 13,205.03.
After Binance, in terms of volume traded in September, comes BitPreço with 3,886.84 BTC moved. Then comes NovaDAX with 3,402.61 Bitcoins traded last month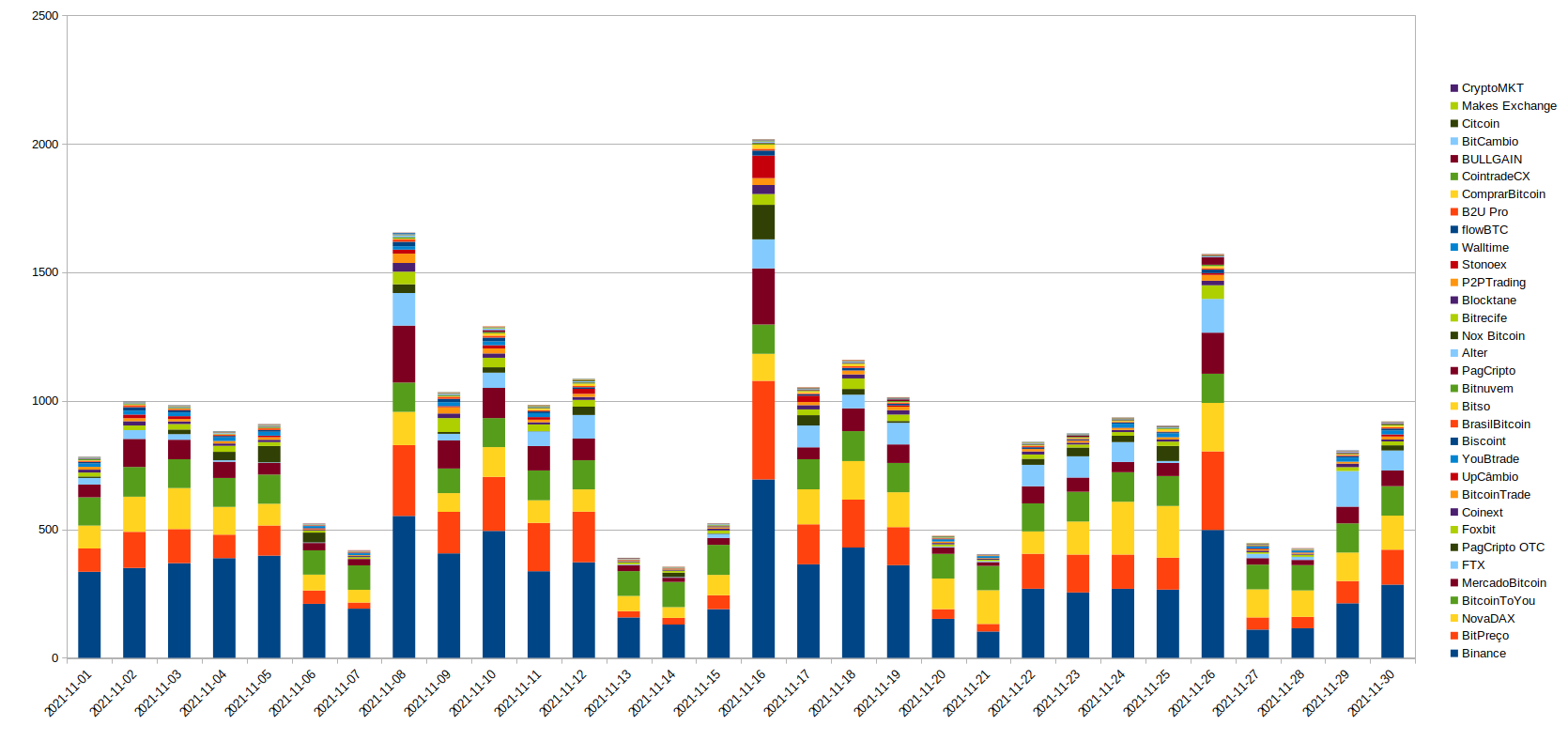 Exchange volume
The CTM report also highlighted that, last month, the day that registered the biggest movement of Bitcoin was the 16th. On that date, when each BTC was worth R$ 328,722, 2,017.6 BTC (R$ 676 million) were moved.
On the other hand, the day with the least movement was October 14, when 354.65 BTC (R$ 127,287.932.95) were traded. That day, Bitcoin was still traded at around R$ 350,340 thousand.
Also read: Play-to-Earn: 5 games to follow in December!
Read also: Bitcoin bull cycle has not yet peaked and BTC will rise further, analyst says
Also read: Bitcoin drops 15% and cryptocurrency market follows down. Evergrande's debt and new variant of COVID-19 are among reasons for the fall