Follow CriptoFacil on

Like most Brazilian workers, Bitcoin (BTC) also entered a "sextou" mood. As a result, the cryptocurrency price opened higher on Friday (26), interrupting a three-day losing streak.
According to CoinGecko, BTC opened the day at $26,447, up 0.9% over the past 24 hours. In reais, the quotation reached R$ 133,193, up 2.4%, reinforced by the devaluation of the real against the dollar.
Pulled by Bitcoin's rise, most major cryptocurrencies also opened the day in the positive. The Top 10 did not register any devaluation and XRP led the way with gains of 4.9%. Ether (ETH) and synthetic stETH tokens posted gains of 3.2%, with ETH worth $1,813.
Stablecoins USDT and USDC registered, against the real, gains of 1.5% and 1.6%, respectively, while BNB rose 1.5% and MATIC opened the day with 3.4% gains.
The market value of cryptocurrencies rose 0.9% and reached the level of US$ 1.15 trillion (R$ 5.83 trillion), with a total volume of US$ 33.6 billion (R$ 169.3 billion) . BTC's dominance remains at 44.2% and ETH's rose to 18.8% for a total of 63%.
"BTC continues to work within a bearish channel that should take the asset to at least $25,000. It will probably spend the rest of the month within that channel due to the low volume of trading in the market at the moment", said Fernando Pereira, Content Manager at Bitget.
MARU still burning
Unlike the Top 10, there were cryptocurrencies that recorded losses in the Top 100, but the devaluations were minimal. In fact, only eight of the top 100 cryptocurrencies opened lower, with Bitget's token (BGB) standing out, which fell 3.3%, and TON, with losses of 2.1%.
On the other hand, gains outweighed losses by a ratio of 5 to 1. In this sense, the biggest gains came, again, from the marumaruNFT token (MARU). Still without any explanation, the MARU opened on Friday with 15.9% gains, reaching R$ 1.31.
As a result, the token has already accumulated gains of 229% in just seven days and occupies the 82nd position in the Top 100. Its current market value is BRL 2.79 billion, but the token's trading volume is negligible: less of BRL 70 thousand in the last 24 hours.
With such expressive valuations but very low volume, everything indicates that this movement reflects some manipulation of the market. Therefore, the appreciation of the token should not be maintained for much longer.
Futures and Settlements
Rising cryptocurrencies almost always means falling futures volumes and liquidations – and this time was no different. According to Coinglass, futures volume fell 28.06% in the last 24 hours and reached US$ 54.4 billion. Binance saw its volume drop to $10.7 billion, with Bitget posting $3.21 billion in second place.
Liquidations fell even more (almost 70%) and reached a total volume of US$ 36.5 million, of which US$ 23.49 million were short positions and US$ 13 million long positions. Bitcoin led short losses with $11.27 million and other cryptocurrencies led long selloffs ($1.38 million).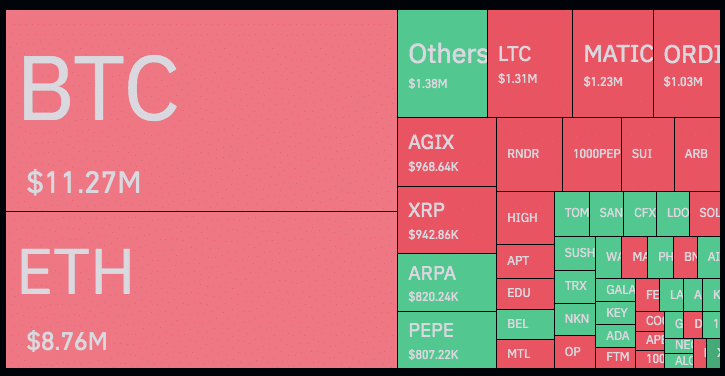 In total, 15,593 traders were liquidated in the last 24 hours, with the biggest liquidation hitting a Bitcoin and USDT swap position on OKX, causing losses of $1.07 million.
Follow CriptoFacil on