The Bitcoin (BTC) market soared on Tuesday (16) and, despite a quick correction, resumed its bullish trajectory.
BTC broke R $ 275,000 this Wednesday (17th) and is back in the price discovery zone.
In relation to the rest of the other large cryptocurrencies by market value, not all performed well.
Bitcoin price today
According to data obtained by the WorldCoinIndex tool, BTC increased 5.36% in the last 24 hours from the writing of this article. The price of BTC today is R $ 276,893.23.
Also this morning, the maximum intraday was recorded, seen at R $ 277,753.84. Meanwhile, the intraday low was seen yesterday afternoon, at R $ 257,777.52.
According to IntoTheBlock data, all Bitcoin addresses are profiting from the current price.
However, the future of Bitcoin is still pessimistic according to its main indicators. Three of them point to a decline, while the remaining indicator is neutral.
As for the BTC exchange volume, approximately R $ 477.7 billion was handled in the last 24 hours.
Finally, the Bitcoin graph for the last 24 hours can be seen below: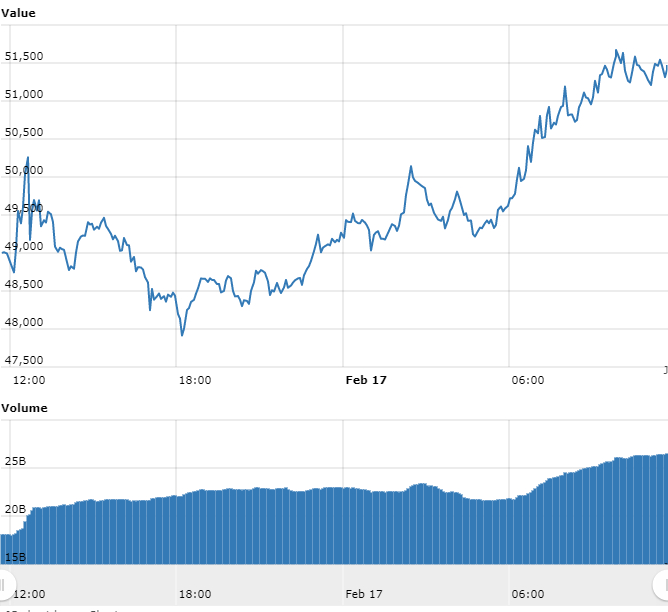 Cryptocurrencies try to keep up
When Bitcoin advances, the rest of the big cryptocurrencies in market value try to keep up.
Binance Coin and Litecoin advanced 7.72% and 5.05% respectively. At the same time, Cardano and XRP suffered respective declines of 3.81% and 3.87%.
The top 20 was less positive. Dogecoin, Cosmos and Uniswap declined respective 9.97%, 6.91% and 3.72%. On the other hand, Monero appreciated 10.38%.
Until the closing of this matter, the total value of the crypto market was R $ 8.291 trillion, about R $ 263 billion more than in the previous day. The dominance of BTC is 62.1%.
Finally, the dollar rate used to convert the amounts was R $ 5.37.