Bitcoin's price is falling due to the instabilities of the traditional market. At the moment, the cryptocurrency operates with a 3.57% devaluation, at $ 47,955. In reais, the price reached R $ 272,780.
However, this strong correction does not reverse the broader bullish trend of cryptocurrency. For analyst Michaël van de Poppe, this trend depends on one factor: the simple moving average (SMA).
Average indicates Bitcoin trend
SMAs follow trends, lagging indicators and often act as support and resistance levels. Therefore, they are used to indicate price trends in assets
An SMA is a calculated arithmetic moving average. This calculation is done by adding recent prices and dividing the count by the number of periods.
For van de Poppe, the level that should be observed is the SMA of 21 weeks. This is the trend that is being defended by the market.
"The 21-week SMA (simple moving average) is the level to be defended by buyers. The trend remains high as long as SMA support is intact, "said the analyst.
The 21-week SMA already has a certain track record. In previous bullish moves, it acted as a price floor for Bitcoin.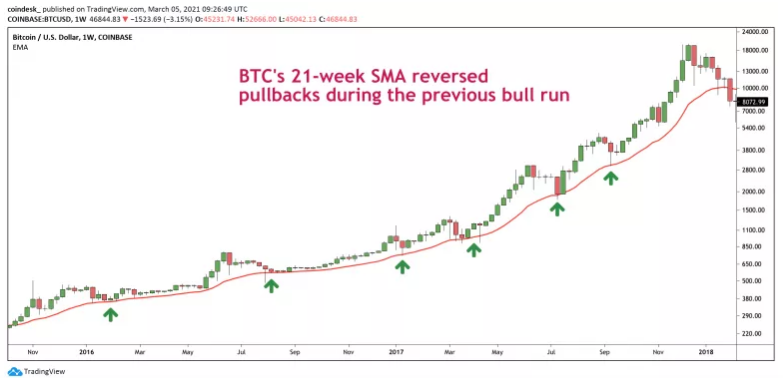 As shown in the graph, SMA has defined floors in previous movements. Because of it, Bitcoin always tends to create larger funds after each correction.
Price perspectives
If history serves as a guide, deeper setbacks may weaken around this year's 21-week SMA. With that, Bitcoin can seek higher prices throughout 2021.
By van de Poppe's analysis, the technical line is currently located at $ 32,240. That is, well below the current price of Bitcoin. It would take a strong correction for it to be broken and thus end the trend.
Also read: Analyst indicates 2 cryptocurrencies prepared to jump in March
Read also: DeFi is the best sector to invest other than Bitcoin, says expert
Read also: Banksy's original work burned to NFT