Follow CriptoFacil on

Bitcoin (BTC) is quoted at $ 27,680 this Tuesday (30) and is on track to end the month of May with a retreat of about 7%, according to data from CoinGecko. On the first day of this month, the largest cryptocurrency on the market was priced at $28,580.
In this way, unless BTC appreciates around 3.2% by tomorrow (31), to end the month at "zero to zero", this will be the first low month in the last semester. Bitcoin performed positively in January, March and April and ended February in slight stability. Year-to-date so far, the price of Bitcoin has surged by over 66%.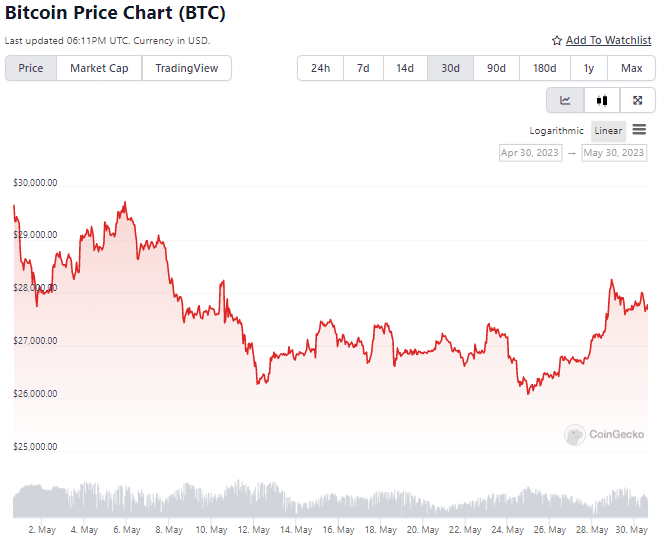 The low of BTC in May is likely related to the interest rates set by the Federal Reserve (Fed). The Fed is expected to keep interest rates higher for longer in response to persistent inflation and a resilient job market.
With high interest rates, low investments become more attractive, as they are more profitable. And this means that money leaves riskier assets, such as cryptocurrencies, and migrates to more "traditional" assets.
Is there salvation for Bitcoin?
For analyst Ekta Mourya, there is still a "salvation" so that Bitcoin does not close the month of May in a low. According to the analyst, big BTC investors – the so-called "whales" – could still potentially fuel a recovery in the BTC price.
The analyst noted that, typically, the accumulation of large investors and the decline in supply of the asset on cryptocurrency exchanges are considered bullish signals for the BTC price.
"Throughout May, whales in three segments continued to collect Bitcoin tokens and the supply on exchanges dropped by nearly 3%. Based on data from the intelligence tracker Santiment, the whales accelerated the pace of their accumulation on May 24. The declining supply implies easing the pressure to sell the asset on cryptocurrency exchanges. This leaves room for recovery in BTC ahead of the monthly close," he said.
Namely, she believes that the whales are in a position to sway retail traders with their moves and fuel a recovery in Bitcoin, acting as a bullish catalyst for the price of BTC.
Follow CriptoFacil on