For the third consecutive month, Bitcoin is the most profitable application on the market.
As in January and February, the largest cryptocurrency in terms of market value closed March with the best performance in terms of appreciation.
Bitcoin closes March with 24.43% high
As shown in the table prepared by Valor Econômico, the digital currency supported by companies such as Tesla, PayPal and MicroStrategy registered an increase of 24.43% in March.
Thus, considering the entire first quarter of the year, the accumulated appreciation is already 118.38%.
Second, came the Valor Coppead index, which closed March with an increase of 10.96%. This index is composed of 20 stocks with the best return-risk ratio in the analyzed period of four months.
It was developed from a partnership between Valor and the Coppead Institute of Administration at the Federal University of Rio de Janeiro (UFRJ). The accumulated increase by the Valor Coppead index in 2021 is 8.58%.
In third place was the Real Estate Index (IMOB) with an increase of 9.74% in March. But considering the entire first quarter, the index fell 8.29%.
The euro (commercial market) was last in the ranking of applications in March with a devaluation of 2.51%.
Bitcoin delivers best 1st quarter in 8 years
In addition to closing March with the highest appreciation among financial applications, Bitcoin has also just deliver its best first quarter in eight years.
After all, Bitcoin started January trading at around $ 29,000 and closed March at $ 58,782 (R $ 333,470). The result is the best since 2013.
In addition, this is the 4th consecutive positive quarter of BTC with a minimum earnings performance of 18% and a maximum of 168%.
Analyzing month by month, the performance is remarkable, as noted by the cryptocurrency analyst known as PlanB: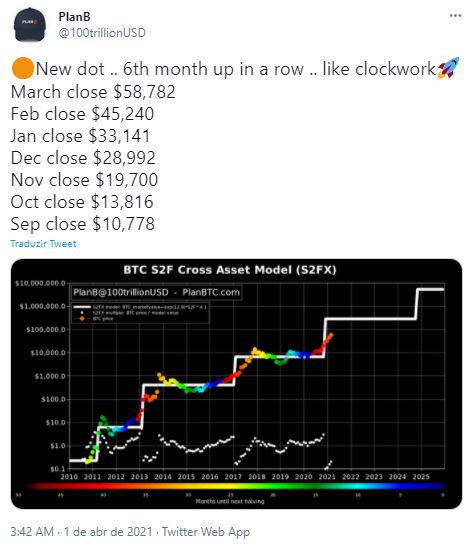 "New point: 6th consecutive month, it looks like a clock.

March closing $ 58,782;

February closing $ 45,240;

January closing $ 33,141;

December closing $ 28,992;

November closing $ 19,700;

October closing $ 13,816;

September closing $ 10,778. "
At the time of writing, Bitcoin is trading at $ 58,892, up 13.4% over the past 7 days.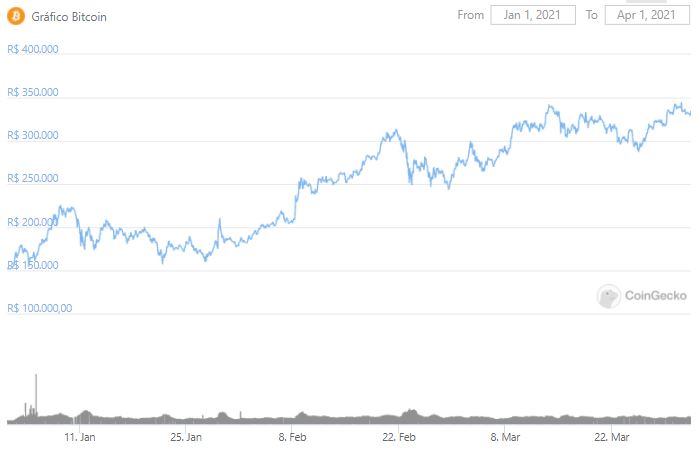 Read also: Bitcoin's high is over: analyst gives tips on how to guarantee profits
Read also: Fast food chain will give Bitcoin for free to customers
Read also: It's time to "invest everything" in Bitcoin, says expert