Follow CriptoFacil on

The price of Bitcoin (BTC) appreciated more than 5% this Wednesday (29) and returned to the level of US $ 28 thousand. In the medium term, however, the price is still trapped within a narrow range from the buy climax at $28,500 to the sell climax at $26,600.
This small consolidation looked like a warm-up for the return of the bullish cycle, but the increase of fear in the market led to a movement of lateralization. This is why Bitcoin did not dip below the new support, but it also fails to rise above $28,500.
However, this Wednesday's appreciation prepares for a new test of resistance. And if BTC manages to break through this level, it could see up to 12% upside and surpass the $30,000 region.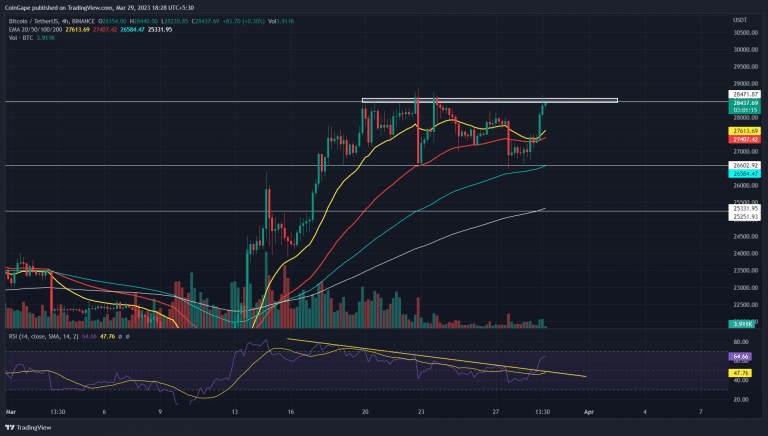 End of a trend in Bitcoin?
For the past two weeks, Bitcoin's price range has been strictly constrained between the $28,500 and $26,600 levels, creating a narrow range. There have been a few attempts to break through these levels, but none have shown sufficient strength.
However, this consolidation came after a strong bullish rally during the week of March 2nd. That narrow could help traders resume the bullish move, which lost steam in the following days.
Today, BTC price surged 5% and again challenged the $28,500 resistance. However, the current appreciation has been accompanied by low trading volume. In trading, this means that the current movement may continue without the strength to push BTC to higher levels.
Therefore, it is likely that the sideways movement will continue for a few more days, even with occasional corrections in case of a new failure.
What to expect?
To resolve the indecision, traders need to wait for the close of the daily chart, which occurs at 21:00 (Brasília time). In this regard, the close of a daily candle must occur above the $28,500 resistance to get a buying opportunity.
If that happens, the move will have shown strength and could send Bitcoin price up 12% to reach the $31,800 resistance.
On the other hand, a possible break below $26,600 will invalidate the bullish thesis and encourage BTC for a longer correction. In this scenario, BTC can test supports below the flat floor, with the first target being the $25,230 range.
Follow CriptoFacil on