The price of Bitcoin has seen its volatility increase for 72 hours, is the market in a speculative bubble ready to explode?
Key technical factors of the article:
The course of Bitcoin has soared vertically since breaking old all-time highs, but volatility suddenly increased on January 10.
Bitcoin is not a bullish bubble about to burst, even though the rise in the first week of January was excessive.
Bitcoin is not a speculative bull
After gaining more than 300% over the last 6 months and making many jealous on the financial markets, Bitcoin has recorded fairly strong and volatile decline sessions for 72 hours. But the 20% decline in 3 days does not change the uptrend of the past few months.
On the other hand, let's admit that the bullish euphoria of the first week of January was excessive and it was this ultimate acceleration that was sanctioned.
Crypto haters have since been crying out for a stock market crash and / or a speculative bubble, excluding BTC's underlying 10-year trend does not have the characteristics of a financial bubble, except indeed the recent surge above $ 30K.
The rise in Bitcoin reflects its immediate and future fundamentals, with increasing use by traders, with PayPal being the last strong news on this topic. But it is true that massive liquidity, low interest rates and leverage exaggerate the rate of rise of btc eur. This is where the excess lies.
Long-term Bitcoin bullish trend is well balanced
To develop a lasting uptrend, it is essential that the rise be done in stages. Bitcoin euro must take its time and now enter a range to consolidate the rise of recent months.
This scenario of a range of several weeks is desirable to see the market go higher without the risk of a speculative bubble.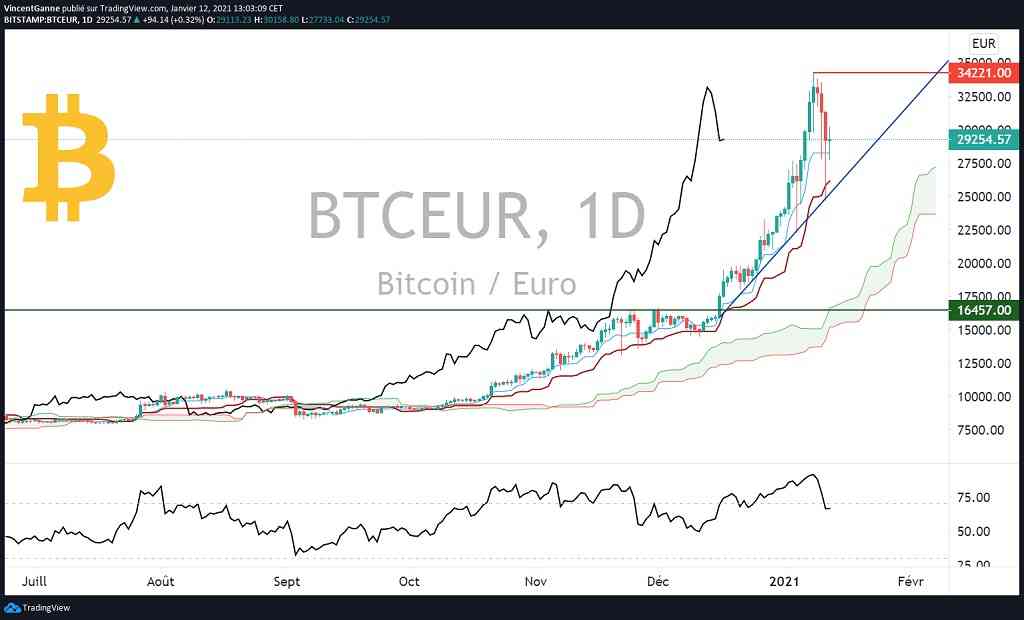 Follow Vincent Ganne on Trading View for more financial market analysis. The technical thresholds and trend shown above are based on the "price, momentum, sentiment, ichimoku" technical approach. The data comes from Bitstamp and the graphics of TradingView.

This content is provided for informational purposes only and does not constitute an investment recommendation. We remind you that theinvesting in crypto-assets, including Bitcoin, is extremely risky. Cryptocurrency prices are subject to large and unpredictable price fluctuations.