For the first time since its launch in 2009, the price of Bitcoin (BTC) has closed a period of eight consecutive weeks of devaluations. According to Coinglass, the mark was hit after the cryptocurrency's price dropped 2.51% between May 15th and 22nd.
From the beginning of this sequence until the last day 22, the cryptocurrency lost 44.29% of its value. In that sense, the price dropped from $48,000 to around $30,200. The largest individual devaluation in this period was 11.51%.
With this, BTC reinforced its new negative record, surpassing the six weeks recorded between August 25 and October 6, 2014. At the time, the price of BTC was worth US$ 507, but the correction made the price reach US$ 323 , a drop of 44.38%.
Sequence of weekly BTC valuations. Source: Coinglass.
start on the MOON
This year's negative streak began on March 28, when BTC was worth $46,900. On the same day, the Terra network announced that it intended to buy $10 billion worth of BTC to bolster the reserves of stablecoin UST.
But a series of events caused the market to turn around completely. First, the Federal Reserve (Fed) began to raise interest rates in the United States, tightening monetary policy. As a result, investors began to get rid of risky assets, including BTC.
The massive sale of BTC caused the first devaluations. Simultaneously, LUNA and UST investors began testing the stablecoin, carrying out progressive sales. Eventually, the stablecoin lost its parity with the dollar and collapsed, which consolidated BTC's losses.
In May alone, BTC has already lost 21.5% of its value, which makes this month the worst of 2022 in terms of performance. However, it is a good result compared to other cryptocurrencies. In addition to the LUNA collapse, Ethereum and Cardano saw losses of 33% and 41% for the month, respectively.
In addition, the traditional market was also affected. Cryptocurrency-focused companies like Block and Coinbase, which thrive on sales of digital assets, saw big drops in revenue from Q4 2021 to Q1 2022. Consequently, their shares posted huge losses: within a month, Coinbase shares dropped. more than 50%.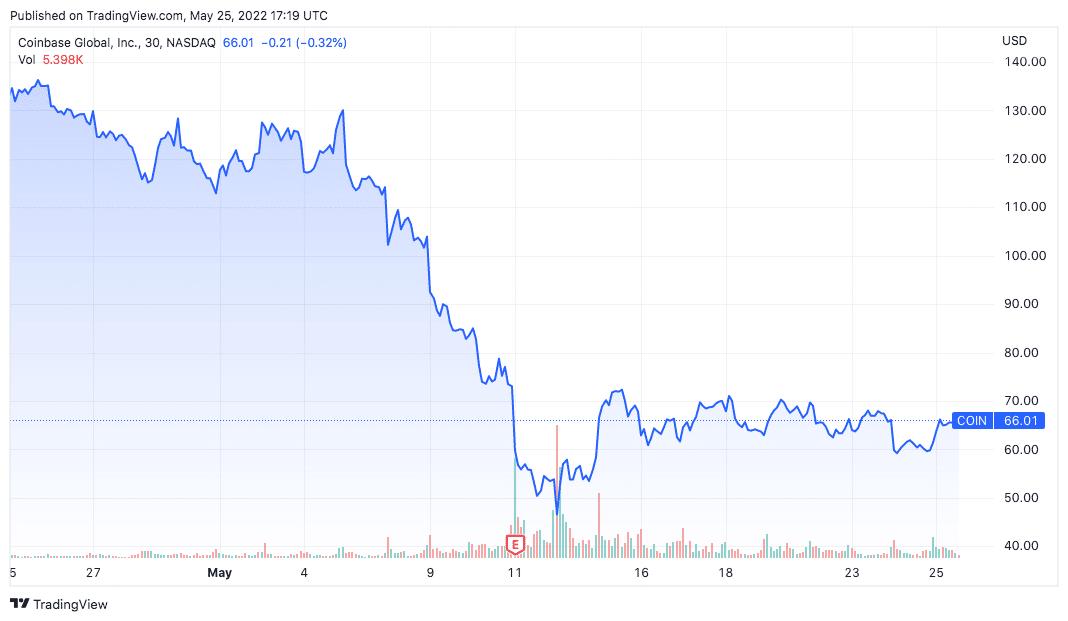 Coinbase shares drop. Source: TradingView.
bear market
According to some on-chain data, since February BTC has been in a bear market. However, many traders claim that the bear market actually started in May – and that it will get worse.
For Barry Jiang of the Huobi Research Institute, BTC could still drop another 28% and reach as high as $21,000 before signs of recovery. This figure is slightly higher than the all-time high of the last halving cycle in 2017, which was nearly $20,000.
Last week, the Crypto Fear & Greed Index – a combination of variables that measure market sentiment – ​​reached a level of 8. This was the lowest level since the Coronacrash in March 2020 and the first time the index has dropped below ten since August 2019.
Other investors, including Microstrategy CEO Michael Saylor, whose company holds more than 120,000 BTC, seem less worried. The company's new CFO, Andrew Kang, clarified last week that the company has no plans to sell its reserves.
"There is nothing in Bitcoin's fundamentals that we believe presents a problem against our strategy," he said.
Also read: Bitcoin and Ethereum about to explode
Read also: Uniswap exceeds US$ 1 trillion in turnover
Also Read: FTX CEO Named One of TIME's 100 Most Influential People of 2022