In order to help investors earn more crypto, Bexplus, one of the major crypto exchanges, has just launched a special offer that doubles your stake. Concretely, if you deposit 1 BTC, 2 BTC will be credited to your account. Each user can earn up to 10 BTC per deposit.
The high volatility of Bitcoin is back, offering traders the opportunity to make big gains. By taking advantage of the fluctuation in prices and the leverage offered by brokers, trading is an activity that can easily generate returns on investments of 100% or even 1000%. Be careful, however, it is necessary to remember that only informed investors can obtain such returns on a regular basis.
How does leverage work in trading?
Imagine we invest 1 BTC to open a long contract when Bitcoin is trading around $ 10,000. With a leverage of 1: 100, 1 BTC opens a contract worth 100 BTC.
The following day, the price of Bitcoin increases to reach 10,500 €. The realized capital gain is then calculated as follows: (€ 10,500 – € 10,000) * 100 BTC / € 10,500 * 100% = 4.76 BTC, i.e. a return on investment of 476%!
Now, with the doubled deposit from Bexplus, our initial investment would increase to 2 BTC, and the profit made with these 2 BTC would then be 9.52 BTC, i.e. a doubled return on investment of 952%!
With leverage, however, it is important to remain vigilant. In fact, just as the gains can be very large, so will the losses if the price falls.
Why choose Bexplus?
Bexplus is a major crypto platform that offers 1: 100 leverage for contracts in BTC, ETH, EOS, LTC and XRP. Its head office is located in Hong Kong. More than 100,000 investors around the world (particularly in the USA, Japan, Korea and Iran) already trust Bexplus.
With Bexplus, you are not under the constraint of KYC and you do not pay deposit fees. In addition, traders benefit from quality support including customer service available 24/7.
No KYC
No KYC protocol is strictly applied during the various processes. Check-in requires only email confirmation and takes only a few minutes. Bexplus provides services to traders in more than 30 countries, including the USA, Japan, Korea and Iran.
Demo account with 10 BTC
To help traders familiarize themselves with leveraged trading, Bexplus has implemented an online simulator. On a demo account, you have 10 "virtual" BTCs that you can use freely without taking any risk. With the demo account you can also learn how to analyze the market and use our different tools.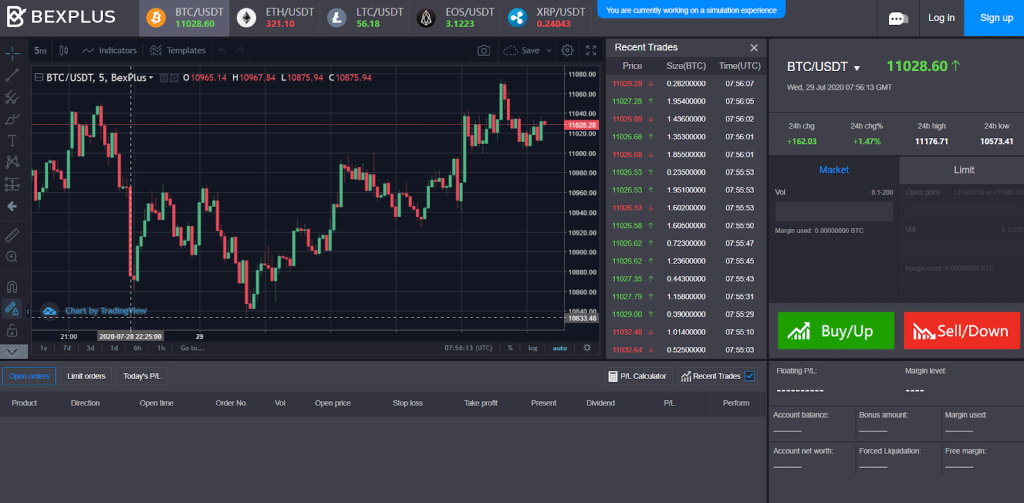 Collection and customer service available 24/7
You can submit a withdrawal request at any time. You will get your funds released within 30 minutes during working hours. If you have a problem with Bexplus, you have the option of contacting customer service via email or instant messaging.
Wallet BTC: up to 21% annual interest without risk
Want to put your trading activities on hold? The BTC Bexplus wallet allows you to deposit your funds and get paid! With an annual interest rate of up to 21%, the Bexplus wallet certainly offers one of the best interest rates in the field. Moreover, unlike most lending platforms which set a minimum deposit of 1 BTC, on Bexplus you can deposit small amounts, starting at 0.05 BTC.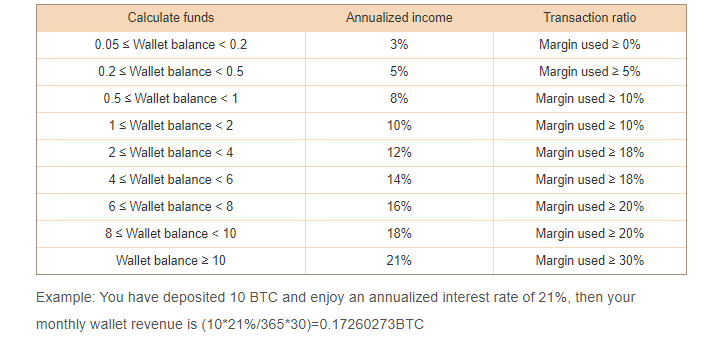 What can I do with the doubled deposit?
It is not possible to withdraw the bonus, but traders can use it to open larger positions and make more profit, which will be withdrawable. In addition, with a larger margin, traders' positions are less likely to be liquidated in the event of large price fluctuations.
Missed the opportunity to buy Bitcoin when the price was low? No worries, you can still make big profits with the Bitcoin price explosion. To accumulate more BTC, join Bexplus and claim your bonus!