Famous trader and analyst Scott Melker made a useful list on Thursday (18). Through Twitter, he pointed out the main mistakes that younger traders tend to make.
Melker illustrated the errors with examples, listing situations and what to do when they happen in an operation.
Tips for newer traders
The series of publications was titled by Melker as "Stupid things that traders do". Through the title, it is already possible to imagine what the tips will be about.
Several points were listed, one talking about stop loss. According to him, younger traders tend to exchange stop loss frequently:
"The only time when you must change your stop loss is when the price moves up and you change to guarantee your profit.

If you are changing when the price drops, it is because you are getting emotional and more concerned with 'making mistakes' than protecting your capital.

Don't be a sucker. "
Another tip from Melker has to do with the position size. The trader said a retail investor should keep in mind that he is not a whale.
Thus, it is important to risk a maximum of 1% to 2% of the portfolio at a time. Melker adds that ignoring this tip is a "one-way bankruptcy ticket".
You can't get rich with R $ 1,000
Finally, the trader known as "Wolf of all the streets" talks about dreams of becoming a millionaire with a small bank.
Melker warns:
"Not having enough capital. We all like the idea of ​​traders who started with $ 1,000 and turned it into millions.

It probably didn't happen.

You CANNOT be a professional trader with a small bankroll, unless you believe that being a professional trader means being a homeless future. "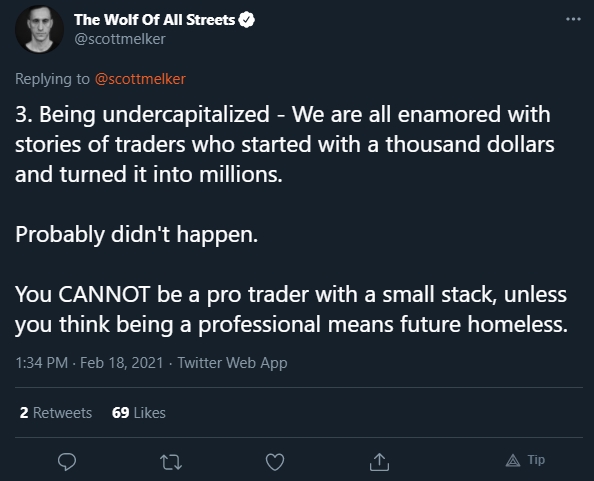 Melker complete giving tips on what is needed to set up a properly sized bench. First, you need to calculate your spending and how much you need to earn annually.
Therefore, it is necessary to calculate the expected return below expectations, in case any unforeseen event occurs. It is necessary to return and recalculate the necessary portfolio with this information.
The trader concludes that he is almost sure that many traders do not have the minimum necessary amount.
Also read: Cryptocurrencies may appreciate 27,000% if history repeats itself
Read also: Bitcoin appreciates 21% and approaches R $ 310,000
Read also: Bitcoin reaches $ 1 trillion in value before Google and Amazon