Blockchain technology has enabled a series of transformations in the global banking model. Part of that change comes through stablecoins.
Since Bitcoin (BTC) has risen in 2020, investors have been more interested in crypto. In the acquisition of crypto, stablecoins are commonly used as a tool.
According to the report "Stablecoins: narrowing the gap between traditional and digital money", by The Block Research, Ethereum grouped almost 70% of the existing stablecoins in January alone.
Ethereum leads ranking
The report points out that 69.4% of "stable cryptocurrencies" in operation in January are provided by the Ethereum blockchain.
The Tron network occupies the second position, with 26.6% of the circulation of digital assets. Third and fourth, respectively, are Omni (from Bitcoin) with 2.9% and Terra with 0.8%.
The survey lists data from seven stablecoins, including: USDT, USDC, BUSD, DAI, PAX and HUSD. However, the USDT leads the ranking of the largest flows in the market.
Use growth
Investors are joining the stablecoins. Proof of this is the increase of US $ 360.5 billion in the volume of monthly transactions using such cryptocurrencies, approximately R $ 2 trillion.
The figure is a cut from the $ 23.5 billion recorded in January 2020 and $ 384 billion in the same period in 2021.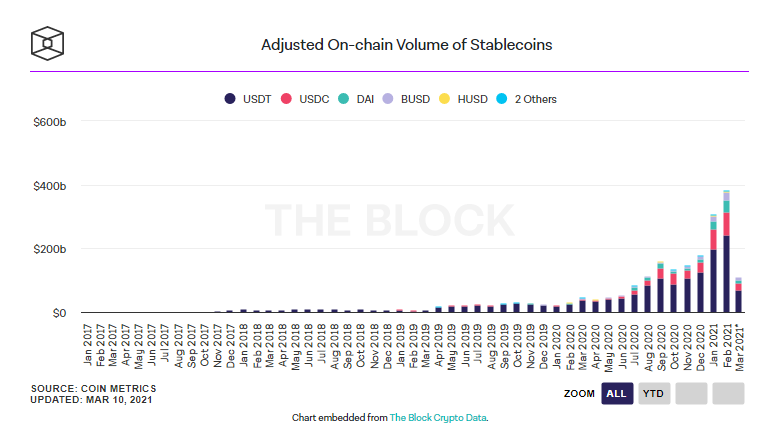 Integration debates
Enthusiasts envision in the stablecoins a safe and stable structure to integrate physical and digital money.
Debates about cryptocurrencies have been gaining ground in society. The demand for a position put pressure on authorities to make the issue on the public agendas.
This year, Jerome Powell, president of the United States Federal Reserve System (Fed), realizing the urgency of the situation, said:
"We are working on the technical challenges and also collaborating and sharing the work with the other central banks around the world who are doing this."
Also read: Dogecoin, Binance Coin and Swipe will break maximums, analysts say
Also read: Whale moves more than R $ 2.7 billion in Bitcoin and pays less than R $ 300
Also read: Chiliz (CHZ) accumulates 575% high and breaks historical record