Unless you've lived in a burrow, you know that Bitcoin has grown at an incredible rate over the past year. It recently hit a new high of over $ 64,000 (€ 53,400), rising over 63% in the first quarter of 2021 alone.
Without a doubt, one of the main causes of this incredible bull run is that the pandemic has weakened traditional currencies and caused many people to seek alternatives to help them weather the crisis. This has led global financial institutions and large corporations to invest in cryptocurrency. In turn, this heightened interest has boosted the legitimacy and popularity of Bitcoin and cryptocurrencies in general, a craze that is likely to last for the long haul.
If you already own Bitcoin, you want to be sure that you don't lose all of your money if the price drops again. You also want to put your profits to work to earn you something. The safest and most profitable way to do this is crypto arbitrage.
Why is crypto arbitrage a smart strategy?
Crypto arbitrage is an attractive investment strategy for several reasons. Let's take a closer look at some of its main benefits:
Low risk
Crypto arbitrage is commonly used by institutional and retail investors. Indeed, it is common knowledge that it is one of the least risky forms of investment. Why ? Because this investment does not make you vulnerable to the volatility of the crypto market. Instead, you make a profit by exploiting crypto price timing differences. Indeed, there are short periods (which often last only a few minutes) during which a cryptocurrency is available on several exchanges simultaneously but at different prices. During this brief window of time, you can buy the cryptocurrency on the exchange that offers it at the lowest price, and then immediately sell it on the platform offering the highest price, before the market matches the price.
Minimum effort
To find and take advantage of crypto arbitrage opportunities, you must be able to track hundreds of cryptos on multiple exchanges at once. You also need to take action in a fraction of a second. This is why investors use algorithmic crypto arbitrage software to trade for them.
To better understand how it works, let's take the example ofArbiSmart, a recognized, automated and European licensed crypto arbitrage platform.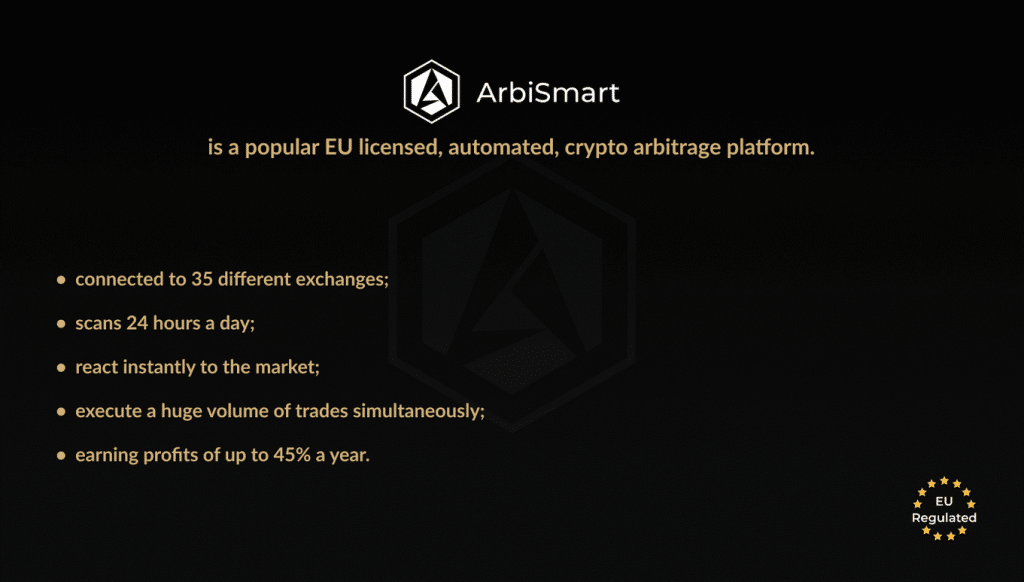 ArbiSmart is connected to 35 different exchanges that it scans around the clock to identify arbitrage opportunities on multiple cryptos. It can react instantly to the market and simultaneously execute a huge volume of transactions. All you need to do is register and deposit funds in fiat or crypto. Then, the company's artificial intelligence-based algorithm does the rest. You can go about your business while earning up to 45% profit per year.
Predictable profits
One of the main characteristics of the crypto market is its very high volatility. Investing in cryptocurrency can therefore be very unpredictable, with very sudden changes. In contrast, crypto arbitrage offers regular and stable returns.
At ArbiSmart, for example, you can access the ArbiSmart Accounts page and see in advance exactly how many you are assured earn per month and per year, depending on the amount of your investment. This reliability allows you to plan your finances much more accurately than with virtually any other form of investment.
Crypto arbitrage also offers more opportunities. This is because no matter what happens to Bitcoin and the crypto market, whether it is booming or falling, you can always profit from temporary price differentials between exchanges.
High returns
We've saved the best for you for last! Crypto arbitrage offers high returns. So, with ArbiSmart, you can expect gains ranging from 10.8% up to 45% depending on the amount invested.
Let's take an example. An investment of 10 BTC is equivalent to $ 600,000 based on Bitcoin's current price. In three and a half years, this investment will have earned you approximately $ 1,886,000, or triple. In fact, this calculation is even rather conservative for several reasons. First, your profits from crypto arbitrage will earn you interest as well. In addition, your capital will increase in value thanks to the increase in the price of the RBIS token, the platform's native token. For information, the price of RBIS has already increased by more than 350% since its inception two years ago.
When you register with ArbiSmart, your funds are automatically converted to RBIS so you can do crypto arbitrage. However, they can be withdrawn in euros or BTC at any time. The lucky users who joined ArbiSmart in early 2019 have already tripled their earnings with the token price explosion. The RBIS is on its way to new heights in 2021. Indeed, the company is preparing the launch of new products and services in the second half of 2021. Among these novelties, we find in particular the arrival of a portfolio with interest, which will add new applications to the token. In addition, RBIS is in the process of being listed. Concretely, within the next few months, it will be possible to trade the token on the exchanges, which should undoubtedly increase its price. Finally, the company managing the crypto arbitrage platform enjoys growth of around 150% per year, which increases the demand for tokens while its supply remains limited.
What are the risks associated with the field of crypto?
Even if your investment strategy is low risk, thenas you enter the cryptocurrency arena, you expose yourself to some degree of risks. Unfortunately, the legislation has failed to keep up with the rapid changes in this emerging asset class. As a result, the crypto field is vastly under-regulated. It is therefore up to you to take extra precautions before entrusting your hard-earned capital into the hands of a crypto arbitrage platform.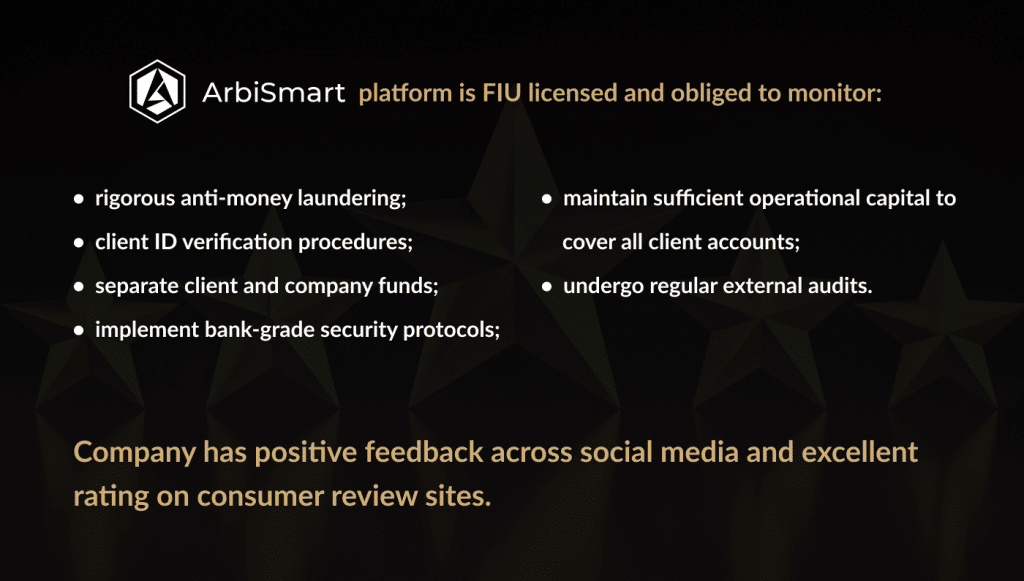 Most importantly, you should only invest with a fully licensed company, as regulatory compliance ensures a high level of security and transparency. For example, with its FIU license, ArbiSmart is required to follow rigorous procedures to combat money laundering and verify the identity of clients. The platform must also separate client and corporate funds, implement bank-worthy security protocols, maintain sufficient operating capital to cover all accounts receivable, and undergo regular external audits.
You should also do some research to understand the reputation of the platform. Take the time to read what the press or social networks are saying about her. For example, a quick online search for ArbiSmart will show you that the company is getting positive social media reviews. Plus, when it comes to customer service, quick withdrawals, and reliable guaranteed profits, it enjoys high ratings from users on sites like Trustpilot.
The automated crypto arbitrage platform represents a unique investment solution. You can put your capital to work, thus generating income liabilities without lifting a finger and at low risk. Unconstrained, crypto arbitrage allows you to glean profits from the rapidly changing crypto markets without exposing yourself to the dangers inherent in its volatility.
Want to triple your Bitcoin with crypto arbitrage? Start now!