The cryptocurrency trader known as Altcoin Sherpa published a video recently in which it pointed out which are the decentralized finance tokens (DeFi) that may perform well in the next month.
To his more than 3,700 followers on YouTube, he pointed out that he is "focused" on these crypto assets because they appear to be ready for a bull rally soon.
1inch (1INCH)
The first token mentioned by Altcoin Sherpa is the decentralized exchange aggregator (DEXs) 1inch (1INCH).
According to the trader, when analyzing the crypto price chart, it is possible to notice a "bullish accumulation pattern" that precedes a price surge. That is, it is possible that, in the coming weeks, 1INCH will rise again.
"Accumulation is basically where the price goes'Ping pong'Between two levels. And this usually happens after a long pump or a big dump", He explained.
In the case of 1inch, it was formed after a dump, not so big, but enough to form the high accumulation pattern.
At the time of writing, the token is being traded at around $ 4.96 (R $ 27.45). In the last week, 1inch has accumulated an increase of 23.9%.
Alpha Finance (ALPHA)
Second, Altcoin Sherpa highlighted Alpha Finance (ALPHA), a project focused on research and construction in the DeFi space.
As the trader noted, ALPHA saw a sharp rise in late January and early February when it hit its all-time high at $ 2.93.
Therefore, a price about 40% higher than the current US $ 1.77 (R $ 9.80), although the crypto has appreciated 10.3% in the last 7 days.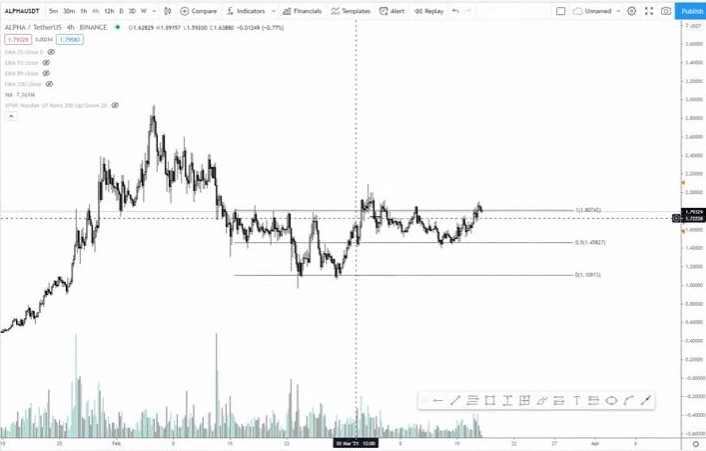 Looking at the chart, the trader pointed out that there is an "Ms" formation. That is, high and low movements close together forming the letter M.
"When you see the 'Ms' narrowing, it is usually quite optimistic, depending on the context, of course," he said. "I think (ALPHA) is ready to move (…) I think this is a good time to buy."
Aave (AAVE)
The trader is also focused on the Aave token (AAVE) which is being traded at around US $ 370.89 (R $ 2,052).
Regarding this crypto, Altcoin Sherpa emphasized that it had an even stronger rally than previous digital assets in January and February.
"So, what we see in a currency like AAVE that had an even stronger pump starting at $ 75 and going to $ 500 or $ 600… When you see races like these, they (the crypto) will have stronger retractions . And this is more or less what we are seeing here with a coin like AAVE. "
At the moment, the token has accumulated a decrease of 8.4% in the last 7 days. However, the trader explained that this is happening precisely because AAVE had an "insane" race.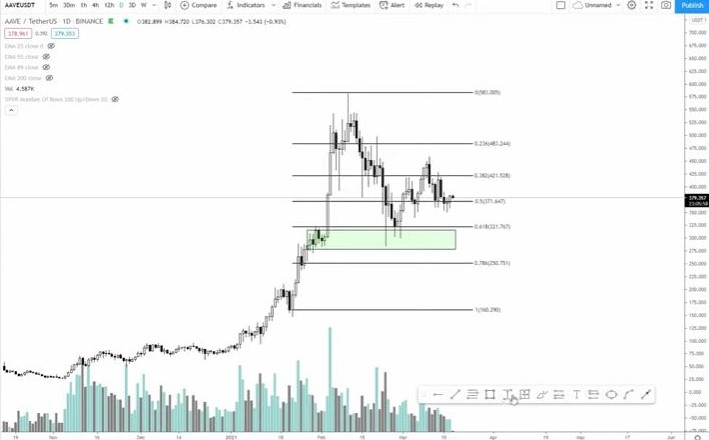 The trader also said he is buying the token in the current $ 370 range, although he wanted to get another entry at $ 330.
"But I don't know if this is going to happen in the short term, unless Bitcoin is dumped."
Polkadot (DOT)
Finally, the trader talked about Polkadot (DOT) which, according to him, is in a period of price consolidation. The current price of the crypto is around US $ 37.60 (R $ 208.10) with a slight increase of 2% in the last week.
"One benefit of DOT is that it has already had a build-up period that ALPHA did not. He just fired. "
In addition, the trader pointed out that DOT had a high followed by a price consolidation and then another high.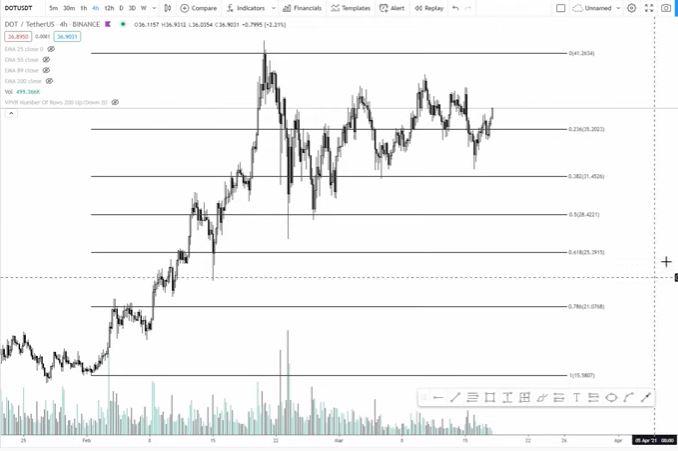 "So, now, maybe it is consolidating again … I am in conflict with myself whether this is a top or not … But I am still optimistic for 2021, so I think it will be good."
Watch the full video:
(embed) https://www.youtube.com/watch?v=KI2p8BW0fgc (/ embed)
Also read: Brazilian platform token jumps 185% in 24 hours
Read also: Star Wars becomes series of NFTs in Marvel initiative
Also read: Chainlink is gaining strength to resume high, says analyst